Most owners do not experience difficulties with choosing a name, because everything is simple with animals: it is not necessary to use traditional names, adhere to some rules. You can come up with a name yourself, without being afraid to shock others. When it comes to purebred dogs, it is desirable that the name is not only beautiful and original but also consistent with the breed.
We've compiled a list of blue dog names for your inspiration.
Blue Dog Breeds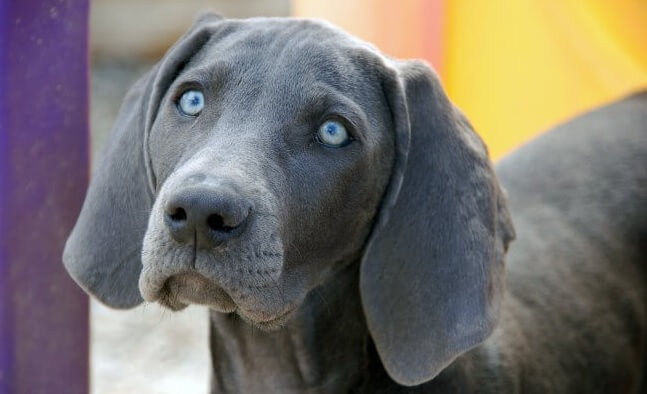 Weimaraner
American Stafford
Great Dane
Yorkshire Terrier
Chow Chow
Greyhound
Blue Heeler
Poodle
Beagle
English Setter
Unique Blue Dog Names
Manga
Glas
Mavi
Sinine
Bughaw
Buluug
Gorm
Kek
Albastru
Modra
Biru
Plava
Melynas
Zils
Azul
Blue Dog Names – Male
Andorian
Sulley
Smurf
River
Dudley
Cobalt
Yale
Midnight
Steely
Indigo
Demin
Neptune
Genie
Levi
Cookie Monster
Murk
Moody
Navy
Grover
Cyan
Memphis
Eeyore
Wraith
Royal
Teal
Lapis
Vapor
Blue Dog Names – Female
Sapphire
Joy
Etta
Peacock
Merle
Rosita
Winter
Dory
Pollia
Bonnet
Polaris
Umbra
Blue Belle
Viole
Blue
Myst
Atasi
Sky
Iris
Capri
Powder
Beryl
Periwinkle
Topaz
Rain
Luster
Blueberry
Livia
Ocean
Ella
Doli
Blue Merle Dog Names
Marbles
Punten
Stew
Calypso
Gingersnap
Blau (German for Blue)
Pinto
Maculate
Sonic (the Hedgehog was blue)
Blue Belle (Bell for Short)
Tapestry
Oreo
Scraps
Dottie
Mash
Indigo (a deep blue or violet midnight sky)
Capri (deep sky blue)
Grover (blue character on Sesame Street
Andorian (blue alien on Star Trek)
Bluebonnet (a blue flower)
Royal (as in Royal Blue)
Meena (Hindu word for blue stone)
Bandit
Tanzanite (Tanz for short, tanzanite is a blue gemstone)
Midnight (the blue you see in the night sky)
Checkers
Peacock (a beautiful bird with blue feathers)
Harold (blue character in the children's book, Harold and the Purple Crayon)
Blotch
Mottley
Patches
Aster (Blue Flower, good name for a girl)
Glory
Smokey
Truffles
Topaz (a blue gemstone)
Cobalt (a bluish colored chemical element)
Lapis (blue gemstone)
Spectre
Atasi (A type of blue flower)
Pockets
Hinto (The Native American name for blue haired)
Pollia (blueberry found in Africa)
Blue Moon (a full moon that appears bluish in color)
Max Rebo (either Max or Rebo – blue musician in the first Star Wars movie
Yahto (a Native American word for the color blue)
Smurf (famous blue character)
Sulley (blue character in Monsters, Inc.)
Luna
Rosita (Blue bilingual character on Sesame Street)
Dog Names That Mean Blue
Union: Shade of blue for Civil War uniforms.
Cobalt: Blue is associated with the evil eye and protection.
Teal: A deep-green blue and a girl's name.
Periwinkle: Blue flower.
Harriman: Shade of blue.
Lapis: Lapis Lazuli, blue gem stone.
Navy: Dark shade of blue.
Royal: Shade of blue.
Azure: Sky Blue; the color of the Blue Grotto at midday.
Cadet: Shade of blue.
Blueberry: Blue fruit.
Powder: Shade of blue.
If you have not found your pet's name here, write in the comments, and we will be happy to include it in the list!