An excellent characteristic for huskies is the reviews of their owners, who share their impressions of the peculiarities of the care and maintenance of dogs of this breed. You can often read on websites and forums that Siberian huskies are friendly, sociable, funny dogs, unusually beautiful in appearance, and intellectually developed. Huskies easily get along with the whole family, easily find a common language with strangers, without showing aggression.
We've compiled a list of male Siberian Husky names for your inspiration. Once you pick a name, don't forget to research the right food, toys, and shampoos for your Husky.
Best Male Husky Names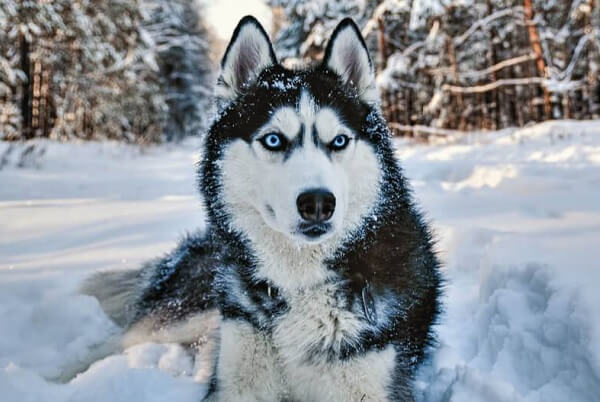 Hunter
Apollo
Diesel
Shadow
Loki
Blu
Blade
Blaze
Storm
Koda
Siberian Dog Names – Male
Akira
Boomer
Beau
Cosmo
Sundance
Dash
Blizzard
Glacier
Oso (bear in Spanish)
Chinook (a breeze and a jargon)
Ranger
Wilder
Bruno
Nanuk (the Inuit word for polar bear)
Yukon
Huckleberry (Huck)
Kavik (Inuit for wolverine)
Timber
Kolya
River
Chase
Cedar
Tundra
Bay
Thunder
White Husky Names – Male
Sheep
Salty
Cream
Pearl
Snowy
Cotton
Buttermilk
Cumulus
Frost
Marshmallow
Spectre
Coconut
Ghost
Winter
Peppermint
Arctic
Diamond
Sleet
Cirrus
Stratus
Nimbus
Latte
Glacier
Hail
Spearmint
Angel
Icecube
Ash
Bunny
Polar
Black Husky Names – Male
Sneaky
Whiskers
Ash
Doodle
Patrick
Kodiak
Rex
Oliver
Hale
Miner
Andy
Rocket
Moon
Dust
Disney
Ford
Orion
Ryan
Jimmy
Luke
Flint
Dusk
Fox
Jacob
Buttons
Buddy
George
Jinx
Sammy
Franklin
Wiggles
Adam
Liam
Sweeper
Speckle
Matches
Charlie
Micky
Pluto
Crow
Merlin
Dirt
Cooper
Robbie
Asher
Rocky
Felix
Spot
Puddles
Cute Husky Puppy Names – Male
Chinook
Banshey
Dash
Boris
Neo
Lobo
Malakai
Fable
Blue
Dante
Cooper
Mako
Finn
Ivan
Niko
Atlas
Balto (this legendary black and white husky has quite the history)
Beau
Leo
Fritz
Max
Milo
Huck
Cosmo
Orion
Kai
Tucker
Jericho
Oso
Comet
Houdini
Smokey
Moose
Jack
Echo
Good Names for Husky Males
Zorro
Axel
Loki (The God of Mischief – this one is perfect!)
Leo
Atticus – Ancient Philosopher
Phoenix
Duke
Bruno
Hulk – Marvel Superhero
Yuri – (Last name – Gagarin, the first person to travel to space aboard the Vostok)
Tank
Ace
Stark – After Tony Stark (Iron Man)
Thor – God (Germanic Mythology) or Marvel Superhero
Beau
Ares – God of War
Zeus – The King of the Greek Gods
Obi
Diego
Oscar
Popular Names for Siberian Husky Male Dogs
Hercules
Chief
Titan
Echo
Broderick
Olaf
Hachi
Blizzard
Ore
Balto
Cool Names for Huskies – Male
Vance
Kudo
Trail Mix
Slate
Blizzard
Saber
Emmett
Diesel
Musher
Granite
Bruce
Chino
Vice
Owl
Ryder
Balto
Commander
Comet
Mekko
Mack
Alpha
Dasher
Lightning
Goliath
Larry
Hunter
Avalanche
Storm
Simon
Lance
Rocket
Glacier
Wolverine
Sammy
Pilot
Bolt
Summit
Rocky
Iditarod
If you have not found your male Siberian Husky name here, write in the comments, and we will be happy to include them in the list! And once you pick a name, don't forget to research the right food, toys, and shampoos for your Husky.