Australian Shepherds are ideal companions. They are beautiful, smart, and hardy. An expressive look and a thick coat with an unusual color immediately attract attention. This dog is happy to serve a person, helps on the farm, can be a nanny for a child, a guide, or a lifeguard. She is sociable, loyal, and friendly, but very active and independent, so she is not suitable for everyone. Before starting an Australian Shepherd, you need to study the characteristics of the breed, its pros, and cons.
[lwptoc]
Features of the character of the Australian Shepherd
The Australian Shepherd is the ideal companion, loyal friend, and loyal protector. This is a cheerful, active dog, capable of infecting everyone around with its optimism. She can even smile. Therefore, it is often used for canistherapy, communication with this amazing dog helps people cope with neuroses, anxiety disorders, depression.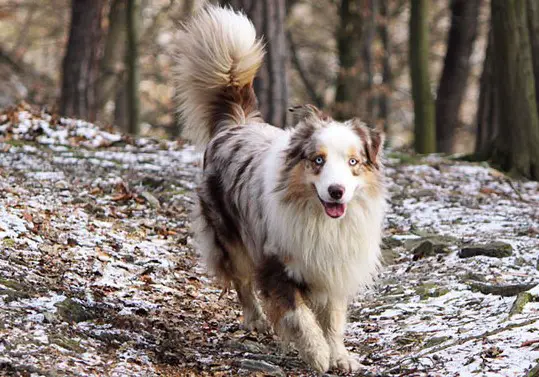 These dogs have several characteristics that have made them grow in popularity around the world.
Australian Shepherd is among the ten smartest dogs. Their uniqueness lies in the fact that they know how to think and find a solution on their own. Especially often, owners note their ability to overcome obstacles, open valves, climb over fences. They can go into the closet, open the bag, get food from the refrigerator.
The Australian Shepherds are very friendly and peaceful. They get along with other animals, dogs. They never get into a fight first, they never bark for no reason.
Australian Shepherds are shepherd dogs, and they have a very strong herding instinct. They love all animals, will graze and take care of cats and hamsters. On a walk, the dog makes sure that no one is left behind.
Australian Shepherds can be a good nanny for a child. She will never offend the kid, during any game she will not harm him. Patient for a hug, even if the child hurts her, the Aussie will not show aggression. They simply adore children, are ready to take care of them all day, participate in games, and protect them.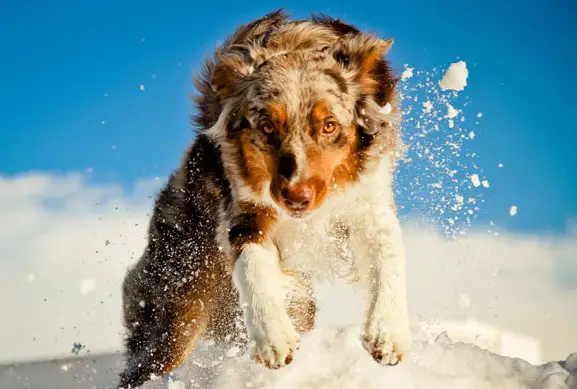 They are very active dogs. Australian Shepherds cannot sit around, they are curious. They need to take part in all the affairs of the owner, accompany him. They often take care of a person so much that they can be intrusive. But with the Australian Shepherds, you can walk in the park, ride a bike, go hiking.
They are loyal and loyal dogs. They are very attached to the owner and his family members, they miss being alone. The change of owners is not going well. They are sensitive, understand the change in the owner's mood and support him. This peace-loving kind dog does not tolerate scandals and quarrels, will try to reconcile people.
The contradiction and uniqueness of these dogs are that they are voluntary, love people, do not have strong protective instincts, and a sense of ownership. Most often they are indifferent to strangers, do not show aggression, easily come into contact. In case of danger, protect members of their family and territory. In this case, the dog does not take commands but makes its own decisions.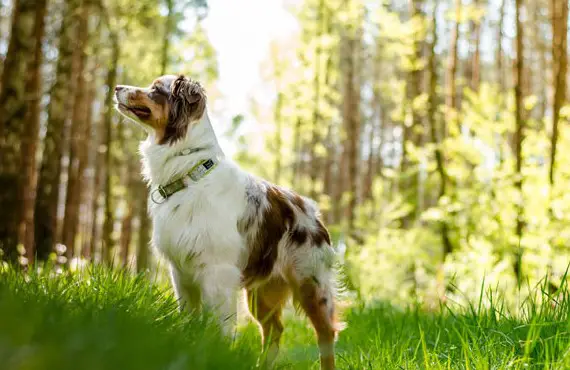 Pros
The Australian Shepherd is a dog that gets along easily with everyone. She is obedient, gets along with any pets. Attaches to the owner, a way to feel his mood. The size of the Australian Shepherd allows you to keep it in an apartment or a private house. It is an ideal pet for families with children, lovers of outdoor activities. The popularity of these dogs is due to the following positive qualities:
very smart, easy to train;
are able to make decisions independently are resourceful in achieving their goals;
good helpers, participate in all the affairs of the owner;
hardy, hardworking, and responsible;
love children, take care of them, protect them;
sociable, friendly, affectionate and loyal;
they are not aggressive, they will never rush at a person and do not enter into a fight, but they
bravely protect the owner from danger;
suitable for canistherapy, nature guides.
Cons
Australian Shepherds are very intelligent and dominant dogs. With the right upbringing, they obey even a child, are ready to master and follow all commands. But an inexperienced owner may not be able to cope with raising such a self-sufficient independent dog. This breed is also not suitable for those who do not have enough time to pay attention to the pet, to walk it. The Australian Shepherds has a few more disadvantages:
you can't sit back for a long time, you need to constantly move with them;
they require prolonged physical activity;
shed heavily;
do not tolerate loneliness, become attached to one master;
very vulnerable, sensitive, and jealous;
do not tolerate heat.