Among white individuals, albinos are often found. Albinism refers to a lack of color pigment. These pit bull dogs have two characteristics: these dogs are blue-eyed and with light noses.
These individuals, despite their unique appearance, are recognized by the breeders as "wrong", so they are not allowed to breed.
Often there are various color variations: from absolutely snow-white to grayish. The presence of a third color is possible – in the form of spots.
Below we offer a list of possible names for your white Pitbulls with blue eyes:
Male Dog Names for White Pitbull with Blue Eyes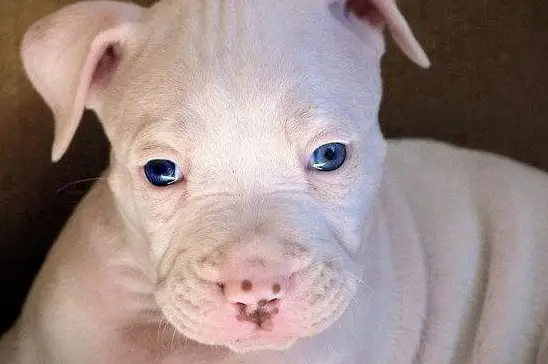 Buddy
Tyler
Freddie
Manny
Benji
Archie
Danny
Will
Basil
George
Hank
Jack
Eddie
Oscar
Jonny
Tim
Pete
Mason
Harrison
Sammy
Carter
Alfie
Karl
Leonard
Andy
Charlie
Zack
Victor
Leo
Toby
Finn
Noah
Robin
Female Dog Names for White Pitbull with Blue Eyes
Bella
Edith
Poppy
May
Mary
Zara
Faye
Kiki
Rachael
Katie
Queenie
Eva
Betsy
Dinah
Abbie
Wanda
Ellie
Violet
Maddie
Tessa
Maisy
Nora
Penny
Lola
Frankie
Clara
Florence
Anna
Freya
Sally
Darla
Olivia
Cassie
Tough White Dog Names
Twirl
Chase
Phoenix
Cash
Jazz
Domino
Rebel
Ace
Bullet
Ego
Dragon
Racer
Gadget
Chance
Pirate
Snake
Vandal
Crow
Tanner
Switch
Dollar
Sabre
Sparky
Thatcher
Raven
White Dog Names for Big Dogs
Trixie
Battle
Flourish
Dixie
Bullseye
Ratchet
Swash
Toast
Rex
Iron
Softie
Dynamo
Roxie
Warlock
Captain
Echo
Coach
Wicket
Gamble
Turtle
Jinx
Astro
Fairy
If you have not found your white Pitbulls with blue eyes name here, write in the comments, and we will be happy to include it in the list!