Which name does justice to an intelligent, lovable, and playful bundle of energy? We present name ideas for Aussie males and females.
Australian Shepherd names are as versatile as the American dog breed itself. Their appearance provides a clue for wonderful name ideas. The agile four-legged friends are undoubtedly a feast for the eyes with their special fur patterns. Therefore, dog names that stand for beauty and grandeur are a perfect fit. Depending on which coat color an Aussie adorns himself with, the ideas go in different directions. For example, names that mean "red" are popular with a Red Merle Australian Shepherd.
Aussie lovers aren't just taken with their looks. The inner values ​​of an Australian Shepherd, such as its intelligence, friendliness, and human-centered character, rightly make the four-legged friend a popular dog breed. In addition, his playfulness, his protective instinct, and his lively nature serve as a source of inspiration for a suitable name. Find your favorite in the following suggestions!
[lwptoc]
Names for Blue Merle Aussie
Wolke
Cosmo
Sprinkle
Bluebell
Grey
Marble
Silvie
Misaki
Amara
Celeste
Enzio
Sky
Moon
Mila
Bonita
Names for Red Merle Aussie
Rufus
Aruna
Merah
Cera
Copper
Ginger
Toffee
Rusty
Arielle
Sienna
Foxy
Autumn
Coralie
Ruby
Brandy
Flint
Macchiato
Australian Shepherd Names for Male Dogs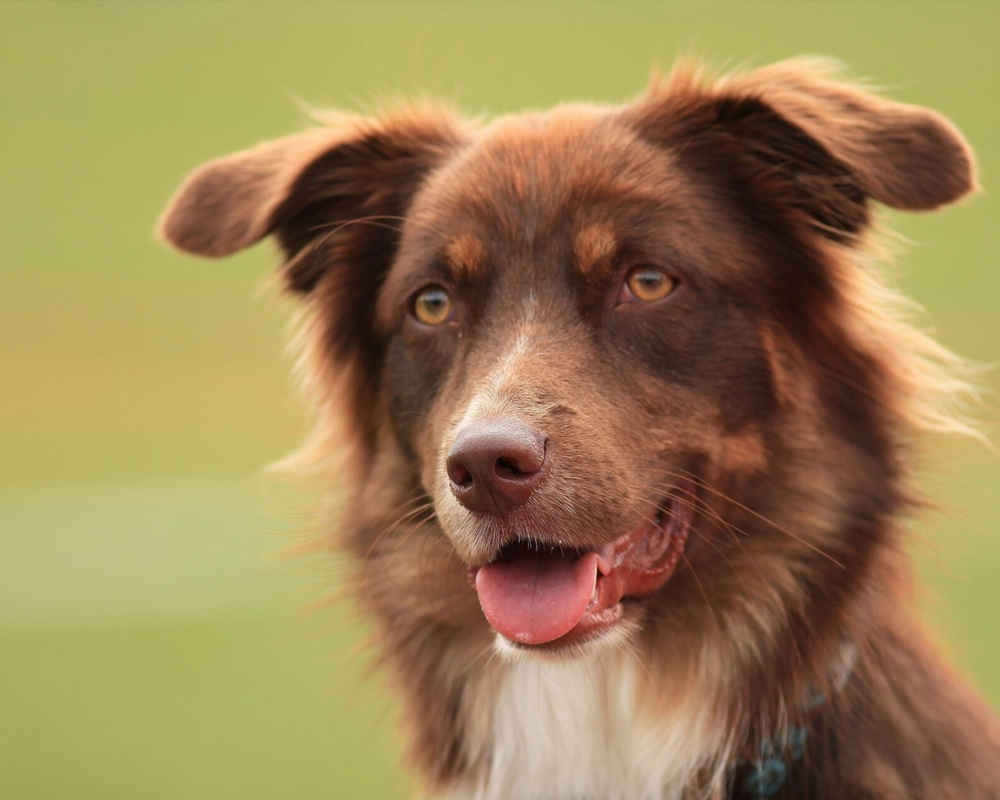 Austin
Two birds with one stone: Austin is derived from the Latin name Augustus and means: "The sublime". That goes perfectly with the majestic four-legged friends. In addition, the name Austin points to the "Australian" in the breed name.
Emil
An Australian Shepherd is not for easy-going people. They are thoroughbred working dogs and need plenty of exercises. For this reason, the name Emil fits like a glove, because its meaning is: "The zealous" or "the hardworking".
Fiete
How about Fiete, the Low German version of the name Friedrich? It means "the protector" and "the peaceful one". Thus, Fiete not only sounds cheeky but also suits a herding dog, which is mostly peaceful but can also be protective.
Hugo
With Hugo things get aristocratic: This old German name means "the mind" or "the spirit". For the clever Aussies who act carefully, Hugo is ideal!
Jace
Australian Shepherds are best friends and, thanks to their friendly nature, are also suitable for work as therapy dogs. Jace is derived from the name Jason, which translates as "the healer".
Milo
The name Milo made it among the top ten most popular dog names for males in Germany. Lovers of the dog breed will confirm that they are valuable four-legged friends. This coincides with the meaning of the name, which is "dear" and "dear".
Australian Shepherd Names for Females
Athena
Athena is a Greek goddess who, among other things, stands for wisdom. Since the Aussies are extremely intelligent four-legged friends, the name fits perfectly.
Bella
One of the most popular names for bitches: Bella means "the beautiful one". Aussies are known for their beautiful coats and elegant physique – hence they are quite rightly entitled to this lovely name.
Ida
The Old High German name Ida has several meanings. One of them is "the worker". For the hard-working Aussies who were bred to tend a herd, Ida is therefore ideal.
Naomi
Like the name Bella only in Hebrew: Naomi is derived from the word "naami", which stands for the properties "attractive", "beautiful" and "pleasant". An Aussie female will live up to this special name!
Sydney
The famous Australian metropolis makes an excellent name for an Aussie bitch. Although the country of origin of the Aussies is North America – thanks to the name "Australian Shepherd", the connection to Sydney is quickly established.
Viva
Viva la Vida! Aussies are clearly lively, cheerful people who bring momentum to the lives of masters and mistresses. Viva is a female name that can be translated as "the living one".