The Yorkshire Terrier dog breed has been gaining in popularity in recent years. These are cute and very compact dogs, ideal for keeping at home. In addition to being intelligent and highly trainable, they are considered very friendly and well suited even to families with small children. There are a number of standard colors, but there is also a specific list of non-standard Yorkie colors that are no less popular due to their rarity. One of these representatives of the breed is a Chocolate Yorkshire Terrier or Choco Yorkie.
[lwptoc]
Chocolate (Brown) Yorkshire Terrier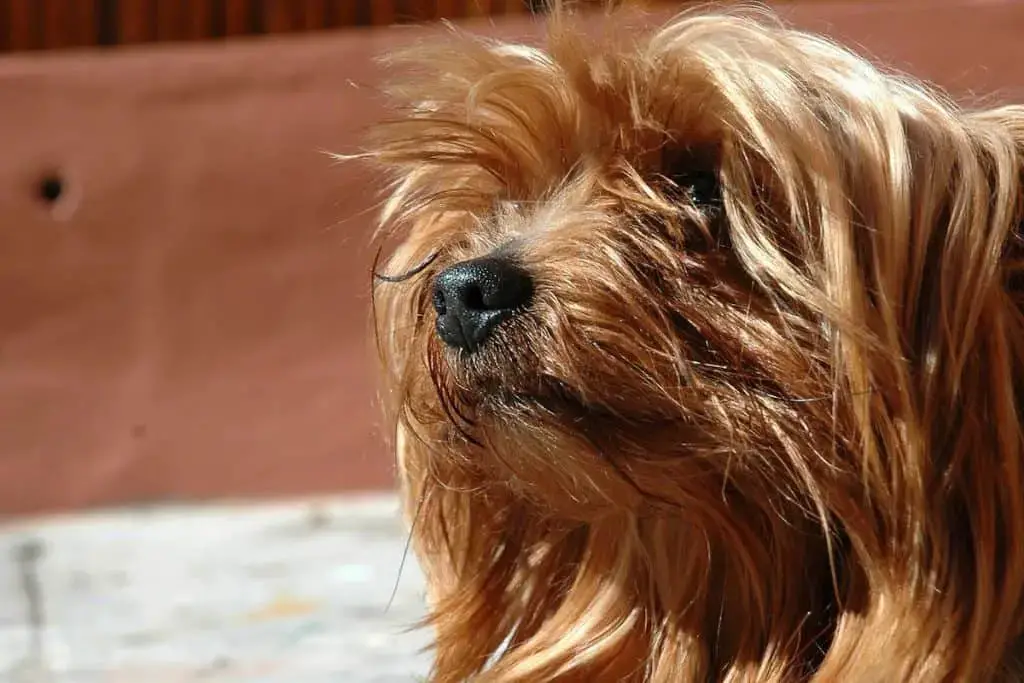 Owners of a chocolate-colored coat look very cute and attract potential buyers, especially since such representatives of the breed appear quite rarely. However, this coat color does not fall under the standard and is considered a defect. Such a Yorkshire Terrier will not be able to participate in show activities.
Despite the impossibility of officially participating in exhibitions and further selection, such puppies are quite expensive. Many breeders try to specially breed chocolate pets in order to sell them at a profit later.
Despite the inconsistency with the color standard, such dogs are very mentally stable and have excellent health, as well as their standard relatives. They have a cheerful, cheerful disposition, very brave and active.
Chocolate Yorkie Origin Story
The chocolate color existed back in the 17th – 18th centuries when the breed was just in its infancy. Then there was no official standard, dogs were valued solely for their performance. Then the purpose of the Yorkies was to catch rodents. These pets were very nimble and had a good reaction.
It is likely that then the chocolate representatives of the breed were actively involved in breeding. That is why today "chocolates" may suddenly appear in the litter, regardless of the fact that the breeders followed all the breeding rules and crossed exclusively standard pets with a steel-gray coat. Only this color, complemented by a fawn muzzle, is considered the only recognized one.
Some breeders are especially interested in brown dogs and breed them in their nurseries. Such puppies do not stay on sale and always find their owners, even for a lot of money.
Chocolate Yorkie Puppies
Brown Yorkie is very lively and active, has a friendly and sympathetic character. Quickly becomes attached to the owner and his family members. It gets along well with other pets in the house and small children. With an older child, he can arrange active games.
Representatives of the breed are perfectly trainable and have high intellectual performance. Yorkies can be easily trained with standard commands and taught special tricks that he will happily perform for a little encouragement.
The owner's emotional connection with the Yorkshire Terrier is very subtle. The pet always feels the mood of its "leader". A dog will never impose his society if the owner is not in the mood to play with him. He will quietly and peacefully lie down next to him and wait for attention to be paid to him.
Chocolate Coat Color
The chocolate-colored Yorkshire Terrier has an almost completely brown coat. The hairs on the face and ears are lighter. White spots may be present on the pet's chest and sometimes legs. Yorkie eyes are usually deep brown in color. The undercoat is completely absent.
Despite its inconsistency with the officially approved standard, the brown Yorkie is an excellent pet. He easily gets along with all the household and shows an amazing ability to train. As a pet, it is considered ideal.