Many dogs have characteristic diseases, the predisposition of which remains at the genetic level, and Bull Terriers are no exception.
For the most part, bull terriers have good health, enthusiasm, playfulness, but a certain percentage are prone to hereditary diseases.
Bull Terrier Deafness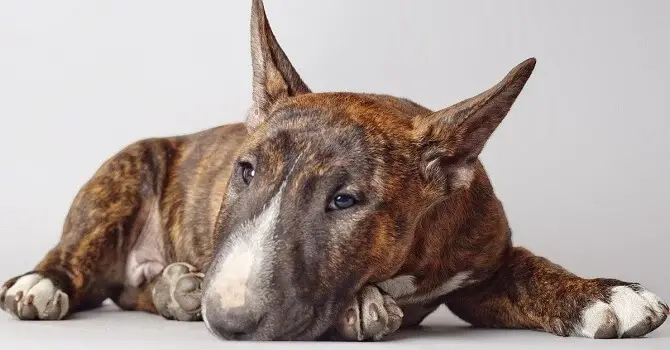 Deafness pursues dogs of this breed from the very beginning of its breeding. White bull terriers suffer from deafness to a greater extent, although colored ones are also born deaf, but much less often. Deafness can be in one or both ears. Newborn bull terriers are screened immediately for deafness and are not allowed to breed. If the bull terrier is deaf in one ear, then it may well become a companion, live a full life and the owners may not even notice the problem. However, completely deaf dogs are difficult to adapt to normal life, they are difficult to train and control, although there are exceptions, completely deaf puppies are more often discarded.
Bull Terrier Genetic Problems: Lethal Acrodermatitis
Lethal Acrodermatitis is a fairly rare congenital disease. A sick puppy is immediately visible by its small size, flat legs turned outward. This disease of bull terrier is the result of a lack of zinc in the body, with age, the skin becomes keratinized. It is impossible to cure an animal, although there are treatments that can prolong the life of the animal.
Kidney Failure
Kidney failure is a common problem most commonly affected by Standard Bull Terriers. For many dogs, kidney failure results in a painful death. The disease can develop at any age, but if detected at an early stage, you can save your pet's life through special diets and timely treatment. Symptoms of kidney failure include decreased appetite, weakness, weight loss, hair loss, vomiting, diarrhea, bad breath, cramps, and pale gums.
Cardiovascular Diseases
Cardiovascular diseases are most common in mini-bull terriers, although standard ones are also susceptible to various disorders of the heart. Some animals may have heart defects throughout their lives that are not harmful to health, but others may have decreased activity, shortness of breath, heart attacks. When raising a pet for breeding purposes, about a year before mating, it should be screened for heart disease.
Dislocation of the Lens
In miniature bull terriers, hereditary eye disease is possible, or rather, a primary dislocation of the lens, when the lens moves freely through the opening of the pupil. The animal experiences painful sensations, as a result, glaucoma may develop, and without treatment, blindness occurs. The disease is most commonly seen in dogs between the ages of 3 and 7. The disease can be detected by performing a DNA test on puppies immediately after birth. Displacement of the lens is not always a hereditary disease, it can be provoked by an eye tumor, glaucoma.
Patella Dislocation
The next inherited disease of bull terriers is patella dislocation, which can be very painful for the animal. As a result of the dislocation, the animal begins to limp noticeably or does not step on the injured limb at all, moving in a jump. Frequent dislocations can lead to future arthritis. Therefore, sick animals are limited in physical activity, they are not allowed to jump high and make sharp dislocation-provoking movements.
Other Diseases
Other diseases of the bull terrier include twisting or eversion of the eyelid, dysplasia of the hip joint, as well as skin diseases to which white bull terriers are prone. Allergic reactions often occur, which manifest themselves in the form of spots and rashes, partial loss of hair, and can be seasonal.