Name: English Setter
Other names: Lawerack, Laverack, Llewellin (or Llewellyn) Setter
Country of origin: England
Size Type: Large Breed Dogs
Group: Sporting Dog Breeds, Gun Dog Breeds
Life span: 10 – 12 years
Temperament: Gentle, Intelligent, Energetic, Mischievous, Strong-willed, People-oriented
Height: Females: 58-66 cm; Males: 61-69 cm
Weight: Females: 20-32 kg; Males: 25-36 kg
Color: Tricolor, Blue Belton, Orange Belton, Lemon Belton, Liver Belton
The price of puppies: $1,000 – $1,600 USD
Hypoallergenic: No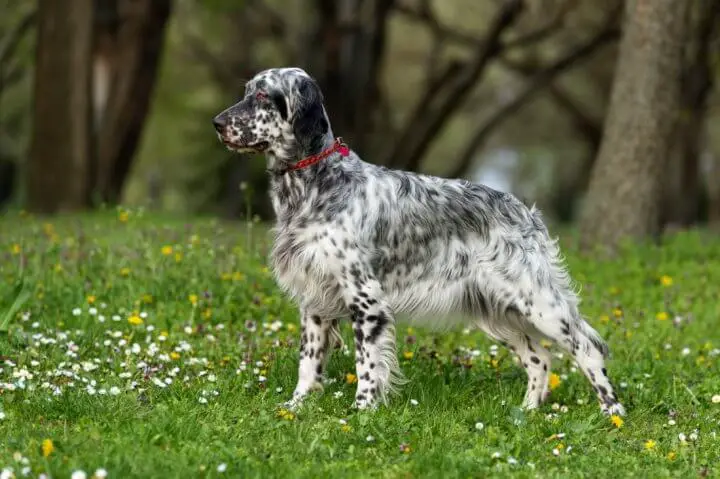 The English Setter is a hunting dog, he is very kind, but at the same time persistent, strong, with a good body structure. The breed standard is considered to be a dog that combines qualities such as power, strong tenacity, as well as a very elegant temperament and behavior. The coat of the English Setter is very smooth, but at the same time long. The setter has a freely stretching and light gait, the front legs are long, the hind legs are very strong, the back is kept straight and straight, safe and stable. Males are very well-muscled, but they are not clumsy. Bitches look very pretty, but not too delicate or sophisticated. Compared to single measures such as general appearance, body symmetry, coat quality, and texture, posture and performance are more important. Defects: If any part of the body is too long, it leads to the insufficient overall coordination of movements.
Kind, gentle, friendly, without shyness, fear, or anger.
The English Setter is a beautiful, elegant, quiet, and delicate breed. Very sweet, loyal, kind, behave well with children, can live with his family, but can also be kept in the yard. When he finds his prey, he demonstrates the find by sitting down. Very easy to train, in real work it is a good fast working dog. Requires a lot of activity, not very suitable for city life. The coat should be brushed twice a week and the ears should be checked regularly.