English Springer Spaniels are beautiful sporting dogs that are still used to hunt wild game today. However, you can meet representatives of this breed not only in the company of hunters but also at shows.
[lwptoc]
English Springer Spaniel: Breed Characteristics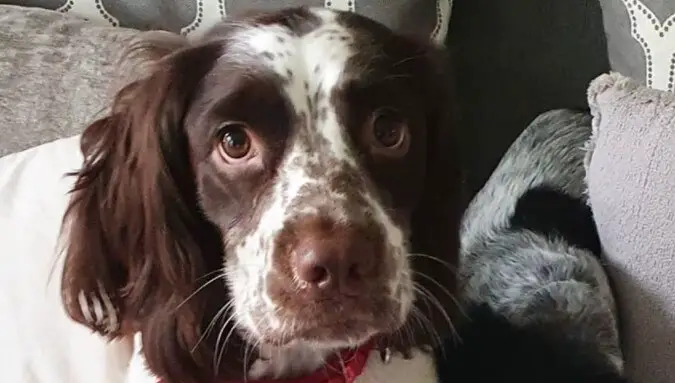 According to the official breed standard, the English Hunting Springer Spaniel must have the following characteristics:
Maximum Height, Weight
They are the tallest spaniel species known. The height at the withers of adults reaches 51 cm. Weight ranges from 21-23 kg.
Color, Coat
The representatives of this breed have a dense and straight coat. In some individuals, the coat may be slightly wavy, but not curly. On the body and paws, the dressing hair is slightly longer. There is a dense and dense undercoat that protects the dog from bad weather.
Springer combines all coat colors acceptable for a given breed. However, at shows, preference is given to dogs with black or brown spots on a white background. Dogs that also have a red tan look especially beautiful.
Ears, Tail
The ears of the springers are set at eye level, they fit tightly to the head. The auricle is of medium width, rounded at the ends. The tail is set low and of medium length. Dogs that were born in England used to have their tails cut off. Today, such operations are prohibited by law.
To become the owner of a Springer Spaniel, you need to find a kennel or breeder who is engaged in inbreeding. Before buying, you must familiarize yourself with the veterinary documents of the baby and the pedigree of his parents. It is also worth paying attention to the puppy's appearance and behavior.