Heartbreakers, jokes, and occasionally lovable clumsy dogs – the little mastiffs steal the heart of their humanity in no time at all. If the Great Dane is about to move in small format, a suitable French Bulldog name is missing. In this article, you will find ideas ranging from fun to charming to traditional.
Which dog name goes with Frenchies? Which names are suitable for males and names for females? They are not exactly the sportiest four-legged friends. Her talent is clearly in spreading a good mood with her friendly nature. Since the four-legged friends, weighing up to 14 kg, are known for their sense of humor, families of Frenchies often opt for a funny French Bulldog name. Many Old High German names, which give the little bulldog a certain nobility, sound funny and at the same time score with a profound meaning.
There is also the inspiration for humorous names from the areas of food and drink as well as from the world of cartoon characters. Dog owners go back to the roots of Frenchies who use French dog names or cities. Pettime presents lots of nice name ideas in this article and will help you find your favorite!
[lwptoc]
Funny Names for French Bulldogs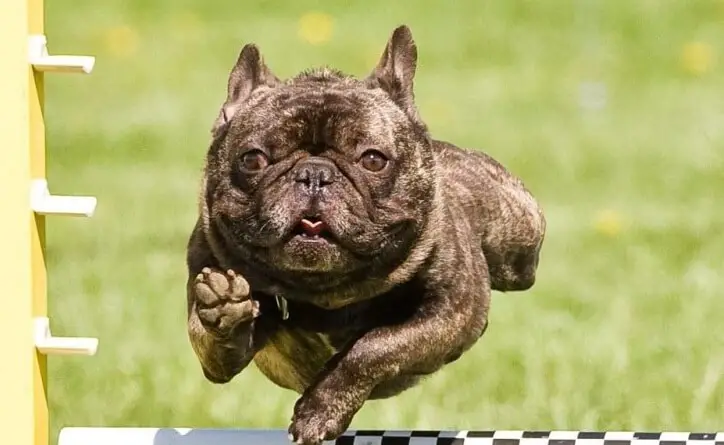 Taddel
Cheddar
Graham
Hilde
Oggy
Whiskey
Bambam
Goethe
Trudy
Jette
Urs
Herbie
Miss Marple
Pumba
Berta
Hank
Kalle
Gustav
Chantal
Gretel
Popular Names for French Bulldogs
Mia
Ellie
Bully
Gizmo
Frankie
Oskar
Goofy
Apollo
Bailey
Hugo
Lotti
Wilma
Selma
Bandit
Cookie
Rambo
Kobe
Nino
Daisy
French Bulldog Names for Male Dogs
Albert
A neat gait and an elegant build – admittedly, these two traits don't necessarily apply to Frenchies. With a bit of irony, the Old High German name Albert, which translates as "the nobleman", is an excellent match for a male dog.
Batman
An essential external characteristic of the French Bulldog is its eye-catching "bat ears". So it is a good thing that the famous cartoon character has a name that translates as "batman".
Carlos
Fiery temperament: Every now and then a leisurely French Bulldog can have its 5-minute seizures. Carlos – translated as "free man" – fits perfectly with a Frenchie who likes to sweep through the house and garden.
Lennox
French bulldog names can reflect traits. Lennox means "the calm one" and is therefore ideal for the gentle breed of dog that is not easy to be disturbed.
Levi
French Bulldogs develop a very close bond with their caregiver. The beautiful boy's name Levi emphasizes this lovable behavioral trait with the meanings "the connected" and "the loyalty".
Pepe
Pepe is clearly one of the cheeky-sounding dog names and therefore fits perfectly with the witty Frenchies! However, the meaning of the Spanish name is profound and reads: "God adds".
Tillmann
The French bulldog ranks second among the most popular dog breeds in Germany. The meaning of the name Tillmann's "man of the people" can, with a little imagination, be interpreted as the "four-legged friend of the people".
French Bulldog Names for Females
Bea
The presence of the friendly and affectionate Frenchies makes mistress and masters happy. Therefore, Bea, which is translated as "the lucky one", fits a bitch perfectly.
Frieda
French bulldogs have hardly any hunting instinct and, with their friendly nature, are ideal beginner dogs. The name Frieda indicates her meek nature and is translated as "the peaceful one".
Heidi
French Bulldog lovers will love her friendly demeanor. The traditional name Heidi underlines the fine character because it means "of the noble being".
Kaya
A French Bulldog should never be underestimated! They are considered to be extremely tough and brave and are therefore perfect candidates for the name Kaya, which translates from Japanese as "the warrior".
Pebbles
From the world of comics: Wilma and Fred Feuerstein's daughter goes by the beautiful name Pebbles. It sounds funny and, with the meaning of "pebbles", is particularly suitable for blue French Bulldogs.
Sadie
An English variant of the name Sarah: Sadie sounds like a lovable French bulldog lady. The beautiful sound is topped by its majestic meaning because Sadie stands for "the princess".
Toulouse
A declaration of love for home: the French city of Toulouse makes a good name for a bulldog that originated in France.