Great Danes are status giant dogs with extraordinary patience and a sense of tact, as well as selflessly loving their owner and the family in which they live. They are friendly and love to spend time with their owners. This does not have to be active games, the dog can just lie down quietly next to him when a person watches TV. Such a docile disposition is to the taste of all pet owners, only the fact of the short life of the "giant" distresses.
[lwptoc]
How Long Do Great Dane Dogs Live?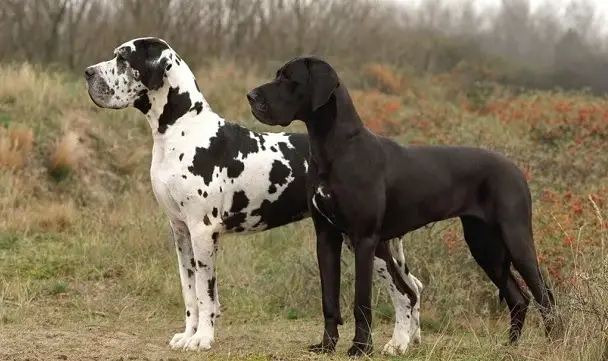 The average lifespan of the Great Dane is only 8 – 10 years. It depends on many factors that the dog owner should pay close attention to. As a rule, exceptionally large canids are included in the group of animals that are not long-livers. There is an opinion that dogs with a large physique are more susceptible to various diseases and congenital pathologies.
Important! It has been experimentally established, unfortunately, that no care and special nutrition will prolong the life of a tall pet. Great Danes rarely live more than 10 years.
That is why veterinarians are advised to pay more attention to your pet. Active walks, daily physical activity, and a properly balanced diet will ensure a high quality of life for your pet.
What Determines the Life Expectancy of the Great Dane
A dog's health and dog's lifespan depend on numerous factors. The owner should pay special attention to caring for the pet, as they are prone to many diseases and pathologies, especially with age.
Health Issues
Animals have slow digestion processes. Volvulus is the primary cause of early death in Great Dane. That is why walks with your pet should be done no earlier than 30 minutes after eating. And better after a long time.
Important! With shortness of breath, increased salivation, and sudden bloating of the dog's abdomen, you should immediately contact the surgeons. Otherwise, death will come very quickly.
The following diseases are also common in Great Danes:
problems with the musculoskeletal system;
dysplasia of the hip joints;
heart pathology;
impaired renal function;
thyroid problems;
violations of the condition of the skin.
In order to eliminate the health problems of the pet, the owner must regularly conduct preventive examinations with a veterinarian, as well as timely vaccinate and supply the necessary vaccines, and treat the animal against parasites in a timely manner.
Care
First of all, such a huge dog requires a large territory. Despite the assurances of many breeders that the Great Dane can get along well in an apartment, such animals still need a large, spacious house with a plot where they can walk freely.
It is necessary to accustom the dog to hygienic procedures from puppyhood so that in adulthood it is possible to freely clean the ears, eyes and trim the nails. Dealing with such a giant by force will be problematic.
For proper nutrition, it is better to choose a combination feed from premium manufacturers. Also include mineral supplements in the diet. Active, long walks, at least twice a day, will help maintain the physical condition of the pet.
How to Prolong the Life of the Great Dane?
In order for the Great Dane to live a long and happy life within its range, it is necessary to provide him with timely treatment of the diseases that have arisen, as well as the prevention of infections. Regular check-ups with a veterinarian, prophylaxis against parasites, and hygiene procedures will help protect the Great Dane from the negative effects of the environment.
The pet's activity must be supported by long walks with physical exertion and active games. Daily activities will help keep your dog in good shape. Also, do not forget about training and obedience classes. With such a huge dog, this is imperative.