Name: Pekingese
Other names: Pekingese-lion dog, Lion Dog, Chinese Spaniel, Pelchie Dog, Peking Palasthund, Peke
Country of origin: China
Size Type: Small Dog Breeds
Group: Indoor Dogs, Companion Dogs
Life span: 12 – 15 years
Temperament: Stubborn, Self-Confident, Aggressive, Good-natured, Intelligent, Gentle
Height: 15-23 cm
Weight: 3.2 to 6.4 kg
Color: Black, Cream, Fawn Brindle, Fawn, Gray, Black and Brown-tan
The price of puppies: $500 to $750
Hypoallergenic: No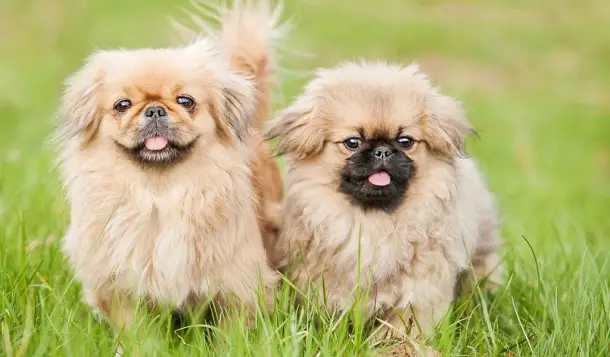 The Pekingese were also called palace lion dogs. It is an ancient Chinese breed with 1000 years of history. Well balanced, compact dog with a wide chest and lighter hindquarters; individual, expressive, looks like a lion. Pekingese is more courageous, bold, with dignity than handsome, elegant, and sophisticated.
A short, thick neck is connected to the shoulders. Compact, pear-shaped body. Well sprung ribs merge into a voluminous, rounded chest and a strong, firm front. Slim, light waist. The top line of the Pekingese is flat. The tail is long, set high, slightly curved over the back on either side.
Noble, intelligent, agile, strong, stubborn, charming, affectionate, infinitely loyal to the owner, indifferent to strangers.