Name: Pug
Other names: Chinese pug, Dutch Bulldog, Dutch mastiff, Mini Mastiff, Mops, Carlin
Country of origin: China
Size Type: Small Dog Breeds
Group: Indoor Dogs, Decorative Dogs
Life span: 12 – 15 years
Temperament: Playful, Stubborn, Attentive, Sociable, Intelligent, Charming, Obedient, Quiet
Height: 25 – 28 cm
Weight: 6 – 8 kg
Color: Fawn, Black, Apricot, Silver fawn
The price of puppies: $300 – 400USD
Hypoallergenic: No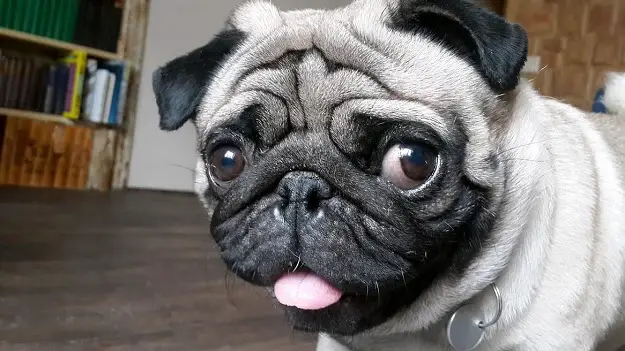 The pug is a small, domestic companion dog. Smart, with a balanced character, lively, cheerful, loves to play with children, adapts well to life in a city apartment.
A short and powerful body, broad at the chest, with well-defined ribs. The tail is curled as tightly as possible. A double curl is preferable.
This is a breed of well-balanced dog, demonstrating qualities such as stability, playfulness, great charm, self-esteem, and an outgoing, loving character.
Pugs are by nature fat dogs, so it is necessary to control their food. Otherwise, they can gain weight, look adorable, but still get heart problems. Due to the short nose and other birth defects, the trachea and airways of the dog are very weak. So at the first hint of a cough or other alarming symptom, start timely treatment, otherwise, all this can lead to serious consequences.