Name: Whippet
Other names: English Whippet, Snap dog
Country of origin: England
Size Type: Medium Breed Dogs
Group: Shepherd Breeds, Greyhounds and Pariah Dogs
Life span: 12 – 15 years
Temperament: Gentle, Gentle, Intelligent, Lively, Quiet, Friendly
Height: Males: 48-56 cm; Females: 45-53 cm
Weight: 15 to 6.8 to 14 kg
Color: Brindle, Black, Fawn, White, Red, Blue
The price of puppies: $800 – $1,500 USD
Hypoallergenic: No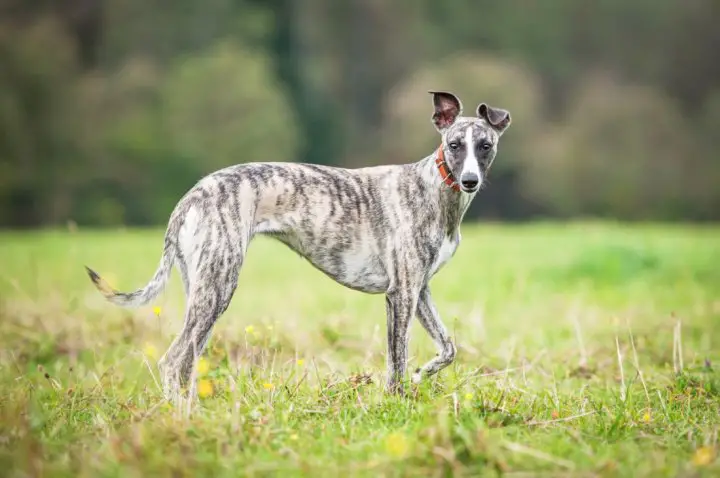 The Whippet is an elegant and well-proportioned, medium-sized greyhound with speed, strength, and a balanced, non-coarse build. This sporty and at the same time hunting dog can easily run long distances with minimal effort. The Whippet is a cross between a Greyhound and an Italian Greyhound. The dog comes from the UK. Thanks to its slender legs and lean, lithe body, it was used to hunt the hare. Likes to play active games with other dogs. Whippets are also popular as family dogs. They know how to behave at home and how to easily and freely attract people's attention. They like to catch mice and other small pests. Very emotional, loyal, and loyal to their master. Easy to train.
Ideal height at withers in males is 19 ~ 22 inches (48.26-48.26 cm); females are 18 ~ 21 inches (45.72-53.34 cm). Deviations of more or less than 1.5 inches are considered disqualifying. The length of the body in a straight line from the point of the sternum to the buttocks should be equal to or proportionately longer than the height at the withers. Secondary bone mass.
Friendly, benevolent, gentle, calm, but capable of being extremely energetic when performing sports tasks. Cheerful, sensitive, elegant, smart, easy to train. Whippet, with its affectionate and gentle character, as well as its devotion to the owner, can become an excellent family companion. Dogs of this breed have one peculiarity: they tend to tremble all over, but not from cold or fear. However, cold and heat should be avoided. In the deceptively weak, frail body of this small dog lies a surprisingly strong and fast dog.