Name: Lagotto Romagnolo
Other names: Romagna Water Dog, Lagotto, Water Dog of Romagna
Country of origin: Italy
Size Type: Medium Breed Dogs
Group: Guard dog breeds
Life span: 15 – 17 years
Temperament: Loving, Loyal, Active, Companionable, Teachable, Sharp
Height: Females: 41-46 cm; Males: 43-48 cm
Weight: Males: 13-16 kg; Females: 11-14 kg
Color: Roan-roan brown, Brown, Orange and white, Orange, Brown and white
Price of puppies: $2,000 to $10,000 USD
Hypoallergenic: Yes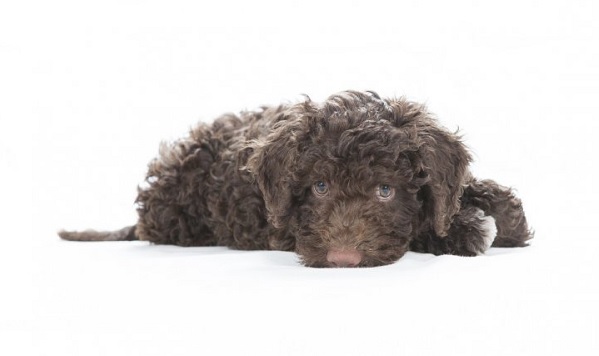 Lagotto Romagnolo. Small to medium size. A well-proportioned, robust, rustic-looking dog with a very thick wavy coat. He should give the impression of a strong and resilient dog, capable of working all day in difficult rough terrain.
Compact, strong, square-format dog. Topline straight from withers to croup. The chest is well developed, deep, slightly narrow in front. The back is straight and muscular, the loin is short, wide, and arched. The croup is long, wide, and slightly sloping. The abdomen is moderately tucked up.
With an exceptional flair and scent, this breed of dog has proven itself well in truffle hunting. Lagotto is obedient, perceptive, easy to train, and very attached to his master. They make excellent companions and watchdogs.