What should the diet of a miniature schnauzer consist of? The answer to this question interests every person who decides to have a puppy of this breed at home. The following article will help you understand the process of organizing nutrition for representatives of this breed.
[lwptoc]
How to Feed a Miniature Schnauzer?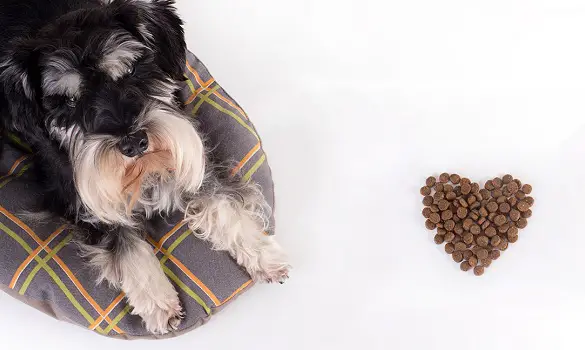 Representatives of this breed are famous lively and fidgets. Although they are not very large, they need nutrients, calcium, and other minerals just like everyone else.
Puppy
Miniature schnauzers grow quite quickly. They reach the size of an adult by one year. It is early to start eating foods for adult dogs.
An approximate monthly feeding scheme for miniature schnauzer puppies looks like this:
Up to four weeks, babies feed on mother's milk. In the period from one month to two, the first feeding is carried out. To do this, use chopped minced meat, cottage cheese, yogurt, milk.
At two months, the dog is taken to a new home. Breeders recommend feeding the puppies for a while with the same food as in the kennel. Little by little, they begin to introduce foods into the diet that he will eat in adulthood. The number of feedings is no more than five times a day.
Starting from four months, miniature schnauzers are transferred to three meals a day. The kid can be given to try raw meat, offal. If the owner wants, he can transfer the pet to dry food. This should be done gradually. The transition process can take seven to ten days. After that, it is forbidden to mix natural food and factory feed.
Introduce the puppy to new products very carefully. Make sure you are free of food allergies.
Adult Dog
Dogs that are more than eight months old can already be transferred to two meals a day. The menu must include:
Cereals. Buckwheat, wheat, buckwheat, and barley groats can make up 30% of the total diet.
Vegetables and fruits. These foods should make up 30% of the RDA. It is allowed to make a stew from cabbage, beets, carrots, zucchini, bell pepper. From fruits, schnauzers are given apples, pears, berries. Melons will also be useful for these dogs.
Meat products. Veal and beef are what suit all Miniature Schnauzers. They may be allergic to chicken. By-products can also be present in the diet.
A fish. Dogs can have a fish day two or three times a week. It is better if oceanic and marine low-fat varieties are offered for food.
Milk. Both puppies and adult miniature schnauzers should be given kefir, yogurt, cottage cheese, and low-fat yogurt without impurities or additives.
Eggs. If the dog does not have allergies, then chicken and quail eggs are given to it several times a week.
You can add oils to ready-made meals. 1 teaspoon of vegetable, linseed, or sunflower seeds. And for dogs that are on natural food, it is necessary to add vitamin and mineral supplements to their food.
What Shouldn't be Given to Miniature Schnauzers?
All foods and dishes that are on the human table fall under absolute prohibition. Pets cannot be fed separately:
bones in any form;
sweets;
smoked products;
sausage;
pasta and bread;
legumes;
grapes.
And also do not fill the dishes prepared for the pet with spices, a lot of salt. Even occasionally, you shouldn't give the Miniature Schnauzer cookies and baked goods.
What to Give From the Industrial Feed?
You cannot feed a miniature schnauzer with economy class feed. And for other dogs, they will not be useful in any way. Saving on pet food will lead to the fact that he will begin to have health problems. It will be much more expensive to cure it than to purchase a high-quality "drying".
So, for miniature schnauzers, there are special lines of food, developed taking into account the needs of their organisms. In addition, holistic feeds are great for them. They are considered the best option for allergy sufferers, puppies, and senior dogs.
For feeding miniature schnauzers, it is better to purchase bowls on a metal stand. One should contain food, the other water. The bowl of food should be removed after the dog has moved away from it. It is better to invite your pet to a meal after he has come from a walk.