The orchid is one of the most popular indoor plants. Orchids are often poisonous for cats and can be dangerous if eaten. Find out here why the ornamental plant is dangerous for your house tiger and how you can recognize poisoning by orchids.
Orchids and Cats
Orchids are popular ornamental plants, but they have no place in the cat household.
Most of the known orchid species are very poisonous to cats.
If your cat experiences symptoms of orchid poisoning, see a veterinarian immediately.
Orchids Often Responsible for Poisoning in Cats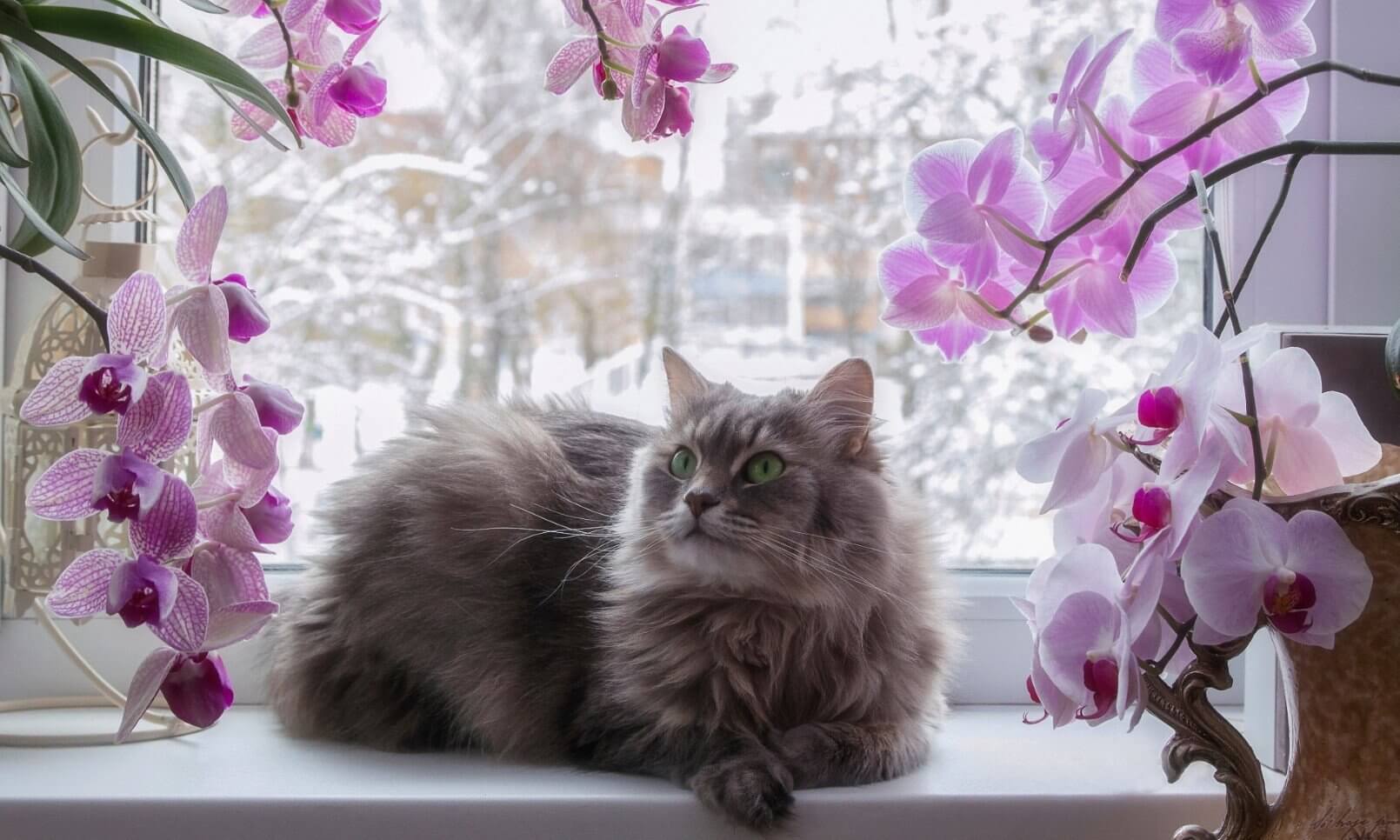 Orchids are one of the houseplants that are most commonly responsible for the poisoning in cats. On the one hand, this is due to the fact that the orchid is very popular and can be found in almost every household. On the other hand, the high poisoning rate is due to the fact that almost all varieties of exotic ornamental plants are poisonous.
It is not yet scientifically clear which substances cause the toxic effect.
What is certain, however, is that nibbling on orchids can have dangerous consequences for cats. There are around 30,000 different orchid species in total. Many of them are known to have been poisoned. The poisonous species include:
Butterfly orchid (Phalaenopsis)
Vanilla orchid (Vanilla planifolia)
Callus orchid (Oncidium cebolleta)
Lady's or Venus's shoe orchid (Paphiopedilum)
Symptoms of Orchid Poisoning
If the cat eats orchid leaves or orchid flowers, the first signs of poisoning usually appear within a few hours. Typical symptoms of orchid poisoning include general malaise and specific or non-specific symptoms, especially:
Disorientation and drowsiness;
Convulsions or tremors;
Vomiting mucus, foam, parts of plants or blood;
Diarrhea;
Irritated, red mucous membranes in the mouth and throat;
Cloudy or dull eyes;
Listlessness, apathetic behavior, and withdrawal.
If the Cat Eats Orchids: See the Veterinarian Immediately
Has your cat nibbled on the orchid in an unobserved moment and is now showing symptoms of poisoning? Then don't hesitate, take your pet to the vet immediately. Be as specific as possible about what the cat ate. If you do not know the type of orchid, you can take the plant with you to the practice as a precaution.
If you do not want to do without the beautiful bloom of the orchid completely, you should definitely place the plant out of the reach of your velvet paw.
Cats like to sit on window sills to look at the window. Therefore, window sills are not a suitable place for the orchid collection.
Place the plant on a tall cupboard or in a room to which the cat has no access, or does without the ornamental plant completely.