Shih Tzu, although they are considered quite clean dogs, need care from a person. And it consists not only in combing and washing but also in nutrition, medical supervision, walking in the fresh air.
Shih Tzu Care Guide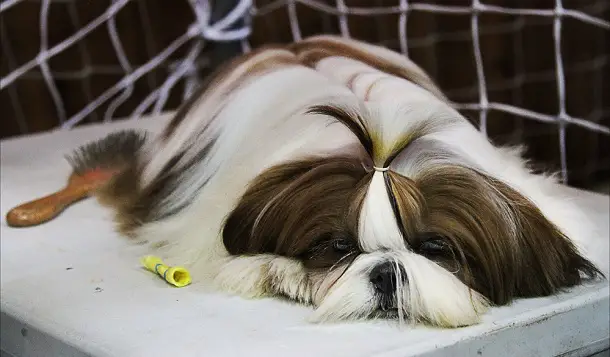 To keep the dog active, healthy, and looking good for as long as possible, the owner must take care of it daily. So, first of all, you need to take care of the place where the pet will live. Shih Tzu is not suitable for street maintenance, and even more so for booths and chains. They need a warm bed in a cozy place. It is better if it is placed near the owner's bed.
After the resting place has been designated, it is worth deciding on the method of feeding. Representatives of this breed are allowed to feed both dry food and natural food. The main thing is that both drying and natural products are always fresh and of high quality. For an adult Shih Tzu, two meals a day are quite suitable. You need to invite your pet to the bowl after a walk, in the morning and in the evening. It is forbidden to feed scraps from a human table.
As for staying in the fresh air, you need to take your pet outside regularly. Even if the dog is trained to relieve himself on a diaper, he still needs to walk. Of course, the Shih Tzu is not a hound and she does not need to run many kilometers. But this does not mean that you need to limit yourself to walking to the nearest flower bed and back. An hour and a half a day is quite enough for a representative of this breed living in an apartment.
Shih Tzu Hygiene
Particular attention should be paid to the Shih Tzu coat. In order for the dog to look attractive and not have health problems, it needs daily grooming. So, the puppy should be taught to comb the coat from an early age. You can comb the wool with both brushes and combs. Special softening sprays and oils will help to separate the mats.
Cutting Shih Tzu hair is also necessary. It can be a hygienic or model haircut. Each owner chooses how the pet will look in the future. However, not everyone can cut the way they would like. If the owner has doubts about his hairdressing skills, it is better to entrust the process to a professional.
But you can also bathe your Shih Tzu at home. To do this, you should purchase a special shampoo and sprays for smoothing the coat. It is important not to forget to thoroughly comb the dog before water procedures. They bathe the Shih Tzu in warm water, lather twice. After the bath, the dog is towel-dried and either blow-dried or left to dry naturally. It is not worth repeating bath procedures too often, this can negatively affect the condition of the pet's skin and coat. Regularly you only need to clean the fur on the face.
It is worth cleaning the dog's ear canals and eyes several times a week. To do this, use cotton swabs and special alcoholic disinfectant solutions.
Nails are cut as needed. If the pet will spend a lot of time outside, then this may not be necessary at all. If the dog is more domestic, then you will have to shorten the nails several times a month. Shih Tzu teeth are brushed 1-2 times a week. To do this, use special brushes and toothpaste.
If you do these procedures regularly, the dog will not have any problems with either appearance or health. And in order to be on the safe side, it is worth showing your pet to veterinarians several times a year.