Dog owners who love jogging can jog and run with their pets. There is even such a sports discipline – canicross. What are its features?
Despite the fact that running with a dog is one of the simplest sports, canicross has not been so long ago. It is believed that the first competitions in this discipline were held in the UK in 2000. And there was canicross from skijoring – towing a skier by a dog. The thing is that in the summer the athletes-mushers, that is, the drivers, not wanting to interrupt their training, ran along with the animals.
[lwptoc]
How is the Competition Going?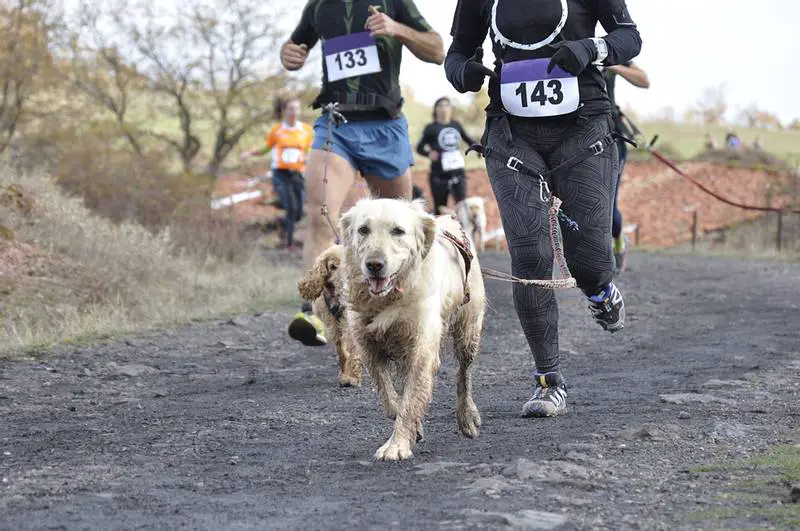 The team, consisting of an athlete-runner and a dog, is faced with the task of running the distance as quickly as possible and finishing first;
The length of the trail is usually from 500 m to 10 km, but there are also distances over 60 km! One of these is, for example, the French race Trophée Des Montagnes;
Competitions for women and men are held separately;
There is both a mass start when all the participants start the race at the same time and an interval start when the teams start in turn;
There are also relay races: a team consists of several participants with dogs;
Athletes run on a dirt road or on a special shock-absorbing surface.
Necessary Equipment
Canicross does not require newbies to buy expensive equipment. Typically, an athlete needs a running suit and trainers, and a dog needs a special harness. It can be purchased in the store or sewn to order, based on the individual parameters of the pet. Traction connects a person and a dog – a shock-absorbing cord 2.5-3 m long. At one end it is attached to the animal's harness, and the other to a wide belt worn by the athlete.
Who Can Participate?
Canicrossing with a dog is an affordable sport. It can be used by adults and children over 12 years old. As for dogs, there are no breed restrictions. Any animals can participate, including mestizos. Their age and state of health are important: vaccinated animals from 15 months are allowed to participate. Pregnant and lactating pets are not allowed to participate.
Training
You can prepare for the canicross competition on your own and with a professional dog handler. It all depends on your goals and the level of the event. There are some general guidelines:
First of all, it is necessary to train the dog to harness and pull;
Workouts should take place 3-4 times a week;
If it is not possible to train in a sports center, choose a track with a dirt road (for example, in a park or in a forest). It is important that the dog does not run on a hard surface, otherwise, problems with the joints and skin of the pads of the paws may arise;
Distance and pace should be increased gradually, starting with a simple walk. Running at air temperatures above 25 ° C is highly discouraged;
Create a "training diary" in which you will describe the current processes, behavior, and reactions of the animal. It will help you better monitor your dog's health and analyze your progress.
Canicross is a team sport. Success in it depends not only on the owner but also on the pet. If the dog refuses to run, don't force it. Always look for the reason for this behavior: maybe the animal just doesn't like running, or maybe there are health problems. Do not forget that sports should be fun for both you and your pet.