The St. Bernard dog commands great respect – this is explained by the mind and kind heart, rescue skills, the dog is a hero of our time. St. Bernard is a quick-witted and judicious member of the family. Sometimes, looking into the eyes of the dog, it seems that now the pet will say something smart and important.
We've compiled a list of the best male and female dog names for St Bernard dogs for your inspiration.
Good Names for St Bernards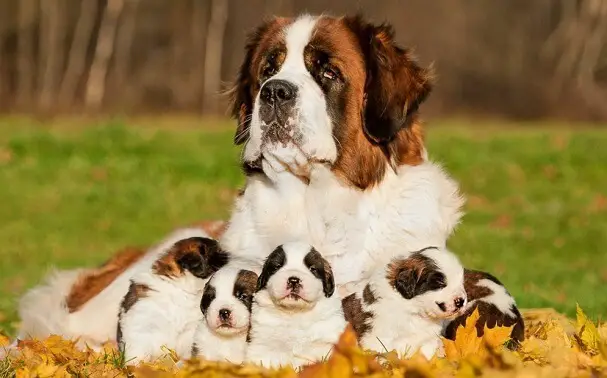 Heidi
Dakota
Moose
Roman
Twilight
Hulk
Priscilla
Ulysses
Attila
Baby
Sugar
Misty
Jabba
Zeus
Stryker
Venus
Godzilla
Sophie
Raptor
Rave
Abby
Dante
Duke
Bismarck
Sadie
Male Saint Bernard Names
Mars
Admiral
Ozzie
Barnabas
Jack
Jericho
Woodrow
Yeti
Sampson
Zack
Hack
Zander
Leo
Cargo
Theodore
Ace
Odysseus
Balto
Chopper
Xerxes
Raider
Laird
Hercules
Remington
Mannix
Ranger
Yukon
Warrior
Hannibal
Yogi
Lazarus
Mac
General
Radar
Dempsey
Maximillian
Wolverine
Achilles
Baron
Gandalf
Oberon
Tarzan
Keno
Tank
Ragnarok
Ninja
Nanook
Adonis
Kaine
Saber
Winston
Fang
Dakota
Female Saint Bernard Names
Bess
Rayne
Acadia
Talia
Daisy Duke
Akiva
Althea
Sasha
Shiva
Kali
Cersei
Banshee
Kaya
Tess
Scout
Fergie
Nayla
Octavia
Panda
Abigail
Amaris
Savannah
Medea
Casey
Lakota
Gemini
Makenzie
Taka
Alexa
Denali
Indigo
Venus
Olympia
Quin
Kefira
Calista
Persephone
Reese
Nakita
Electra
Echo
Mariah
Delia
Fallon
Malibu
Queen
Harper
Phoebe
Nadia
Basha
Cairo
Hannah
Elsa
Damaris
Kamala
Thea
Paris
Sage
Gaia
Harley
Natasha
Shebear
If you have not found your best St Bernard dog's name here, write in the comments, and we will be happy to include it in the list!