Irish Setters are friendly, playful dogs that require a lot of attention, proper grooming, care, and affection.
Character
The Irish are very mobile, even hyperactive. Like, little children, they drive around the house at the speed of light and, even in old age, retain their enthusiasm. They are emotional, playful, incredibly outgoing, friendly, truly loyal. It is not important for them with whom to exchange emotions: be it the owner, a passer-by on the street, or another animal.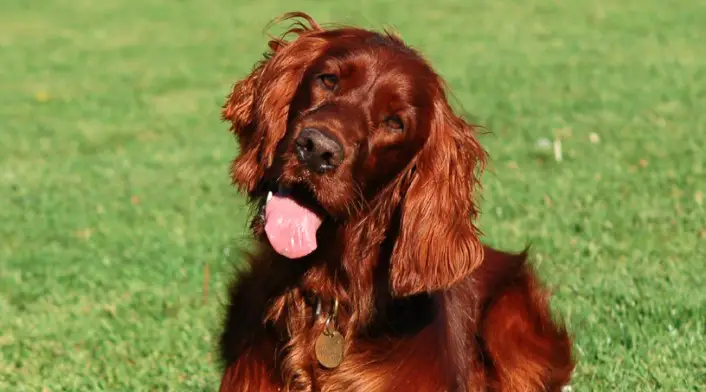 The Irish Setter's personality is not at all aggressive. Dogs behave very generously and openly with children, trying to treat them very carefully. But, despite such a bright and kind disposition, setters are able to show firmness, to be very stubborn.
They are also great actors, as they skillfully pretend at the right moment for them. For example, to get an extra portion of a tasty treat or to attract the attention of the owner. These shaggy friends never dominate a person, they obey commands, but sometimes they are willful.
This behavior is due to the peculiarities of the formation of the psyche of the dog. Up to three years old, they remain real babies. Setters reach mental maturity at 2.5-3 years.
A pet with such a character and temperament should be given to people who love active rest, constant movement, and not a quiet pastime in front of the TV or with a book in an armchair. You need to be ready for the emotional flow that a devoted setter is ready to bestow on his beloved owner at any convenient moment.
At home, they love to walk on the heels, intently, with great curiosity, observing a person. They require attention, care, sincere love, and its manifestations in the form of stroking, affection, gentle hugs.
Care and maintenance
To date, the breed has acquired more and more features of close companions, having lost some of the protective functions. Now the owners take care of their wool, they are not forced to live on the street under a canopy in damp or sultry weather.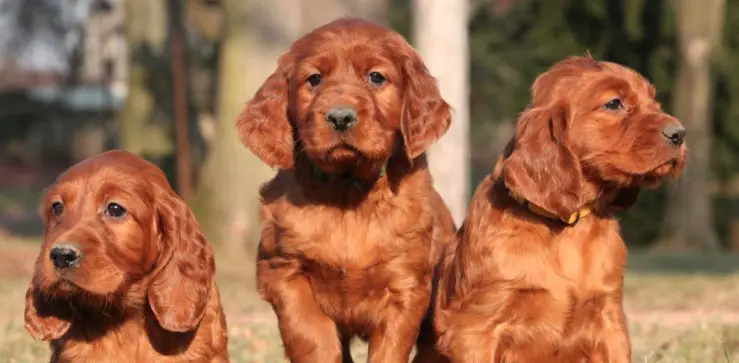 Four-legged friends feel most at ease with a person, living in a warm home environment. The dog should have its own place with a bed, dice, or balls. These things will be needed so that furniture, shoes, and other things do not become objects of teeth scratching or growing claws. Adequate physical activity is required. Walking should be at least two hours a day. Only the correct care and maintenance of the Irish Setter can maintain its beautiful appearance and health.
The silky long coat requires special care. It is combed out every day using special brushes. Bathing is carried out once a week, combing the fur before water procedures. Periodically cut with thinning scissors. This is best done by professional stylists.
Every 5-7 days, it is recommended to examine the eyes, ears, mouth, paw pads. Ears should be washed and cleaned as needed. To prevent the appearance of tartar, you should give your pet special bones, and brush your teeth with a fingertip every 3-5 days.
Puppies require special care and attention. It is important to provide them with a warm, clean place. After active play or jogging, do not let your little ones lie down on the cold floor right away. This can cause colds.
Pros
Setters are friendly, non-aggressive, and outgoing. It's hard to find a kinder breed. They are always ready for dialogue with the owner and are infinitely loyal to him;
The active and playful nature of the setter allows him to become an excellent "nanny" for the owner's children and an excellent playmate;
The presence of other pets in the house is not a problem for the Irish setter. He gets along well with other animals in the same territory and sometimes even shows some kind of guardianship over others, feeling heightened responsibility from the position of an older and stronger comrade;
The Irish Setter is a great hunter. His main passion is birds and swamp games. And if this interest coincides with the owner's, then a strong partner tandem develops, pleasing both and strengthening the bond between the person and his pet;
With an outstanding intellect, the Irish Setter is capable of self-learning and perfectly adapts to any life circumstances;
The care and maintenance of the Irish Setter at home is practically no different from other dog breeds. If you do not pamper him too much, then in everyday life and food it is quite unpretentious.
Cons
Training ability is not the Irish Setter's forte. Due to his playful nature and irrepressible energy, it is difficult for him to focus on monotonous and boring lessons;
Luxurious setter hair needs constant careful care;
It is necessary to understand that the natural temperament of the setter does not allow him to sit still for a long time. He needs long walks, active games, and physical activity. If the owner cannot provide these conditions for the animal, then it is better not to consider the Irish setter as a potential pet.