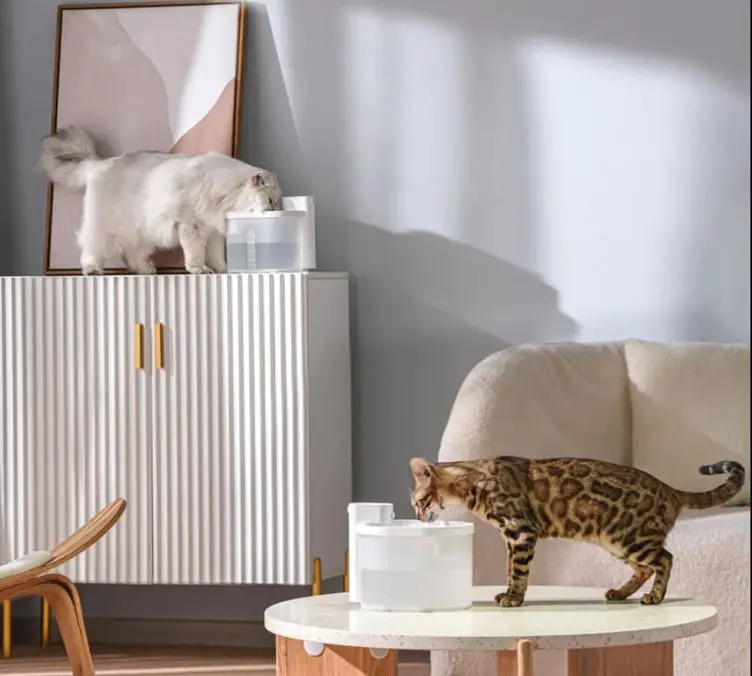 Automatic and wireless water fountains are the most effective and smartest way to provide water for your cats. Every cat owner should have this in their home. As a cat owner myself, I've been using the Uahpet wireless cat water fountain for my cats for a while now, and it made my life so easy.
My cat loves drinking water from it too. The flowing water sound entices the cats and encourages them to drink water from there. 
If you have already bought one but wondering how to use it, then don't worry we have got you covered. In this article, we will go through some of the unique features of an automatic wireless cat fountain and how to use it. 
Why Should You Buy a Cat Water fountain?
An automatic and wireless cat water fountain is made with very impressive and advanced technology. This smart machine really helps to keep your cat hydrated and healthy all day. Your cat won't only benefit from it but you will too. You won't have to clean all the messes your cat makes when drinking from a bowl. 
The Uahpet cat fountain comes with a large capacity of 2000ml water tank so you don't have to worry about refilling the bowl when you are away from your cat. The automatic water fountain will refill the water holder when needed. 
The fountain also offers an anti-tipping bracket to stop your cat from tipping the water when drinking. This will keep your floor clean and you will really appreciate it. 
The word wireless comes to play thanks to the large capacity rechargeable battery in the water fountain which can keep it running without plugging into the socket. It is a great feature to have if your cat plays and ruins the cables. 
Some Common Features of Wireless Cat Water Fountains
Multiple Filter Options – Most cat water fountains come with multiple filtration systems. The more, the better it filters the water. 

Wireless – Wireless fountains can be operated with the built-in rechargeable battery without having to plug it in. 

Sizeable Tank – Most fountains has various water tank capacities. The greater the capacity, the less you have to refill the tank.

Anti-tipping – It is a pretty common feature that comes with most fountains. It is a retractable anti-tipping bracket which prevents cats splashing water on the floor when drinking.

Thermal image Sensor – Has a 120-degree thermal image sensor with a 7-inch perimeter.

Automatic water refill – The timed mode can add water to the tray every 15 minutes.

Separate water & electricity – Separate water and electricity to prevent getting an electric shock. 
Advantages and Disadvantages of Wireless Cat Fountain
Pros:
Can be used wirelessly

Contains replacement filters in the package

Various capacity Tank

Super quiet cat water fountain

Water doesn't spill out when running

Multiple flow modes
Cons:
The USB adapter may not come in the box

Most does not contain a guidebook on how to put it together

Replacement batteries are not included in most water fountains

Spare filters are not available everywhere
Before we learn how to use the cat wireless water fountain, let's look at how to assemble it. 
Wireless Cat Water Fountain: 
How to Assemble
I had no trouble assembling the Wireless Cat Water Fountain. These are the actions:
Step 1: Clean The Individual Parts
To be more precise, the tray and bucket should be washed in freshwater as the first step. Any dirt that accumulated during packaging and shipping can be cleaned off by giving it a thorough rinse.
Step 2: Soak the Filter
Next, soak the pre-filter sponge and filter for 15 to 20 minutes before use. After that, you should place the filter inside the bucket of this pet water fountain.
Step 3: Put The Water Fountain Together
Place the water tray just on the top rim of the bucket once the filter has been placed. If you hear a snap, then you can slip right into wireless water pump. It'll be loose if there isn't one.
How to Use Automatic & Wireless Cat Water Fountain?
Locate a spot where your cat can rest on it comfortably. In the sitting room, for instance, I discovered that my cat appears to enjoy having a water fountain.

Try placing the fountain in a location with much less traffic if your cat is a little shy. When they drink their water, it will give them some discretion.

Choose between the two working options. Every 15 minutes, the timed mode will add water; however, the sensor mode only adds water when it detects your cat. Preventing pet dehydration is the main objective, no matter what setting you select.

For this cat water fountain, I'd advise using the timed mode in a more constrained space. I discovered that using this mode with a single cat in a public setting only produces wasteful water levels.

However, a wide open space was better suited for the sensor mode. This cat water dispenser is incredibly quiet, and it works in sensor mode, which is great for households with multiple pets.

I should also point out that you'll have to swap out the filters and filter sponges. It will require disassembly, removal of both parts, and replacement.
Final Thoughts
I really enjoy using a wireless cat water fountain and am happy to suggest it to other cat owners.
Keeping the water clean for my animals, it has significantly facilitated my life, and fixed the issue with my water splashing and tipping!
There are tons of wireless cat water fountains available in the market but I have used the Uahpet wireless cat water fountain and I personally would recommend it. 
In all honesty, it's one of the top cat fountains I've used for homes with one or several cats. I'd recommend it to all pet owners who wish to provide their cats with healthier water.