Name: Irish Soft Coated Wheaten Terrier
Other names: Irish Soft-Coated Wheaten Terrier, Wheaten or Wheatie
Country of origin: Ireland
Size Type: Medium Breed Dogs
Group: Terrier breed
Life span: 12 – 15 years
Temperament: Energetic, Loyal, Energetic, Intelligent, Playful, Gentle
Height: Males: 46-48 cm; Females: 43-46 cm
Weight: Males: 15.9-18.1 kg; Females: 13.6-15.9 kg
Color: Wheat
Puppies price: $900 – $1,500 USD
Hypoallergenic: Yes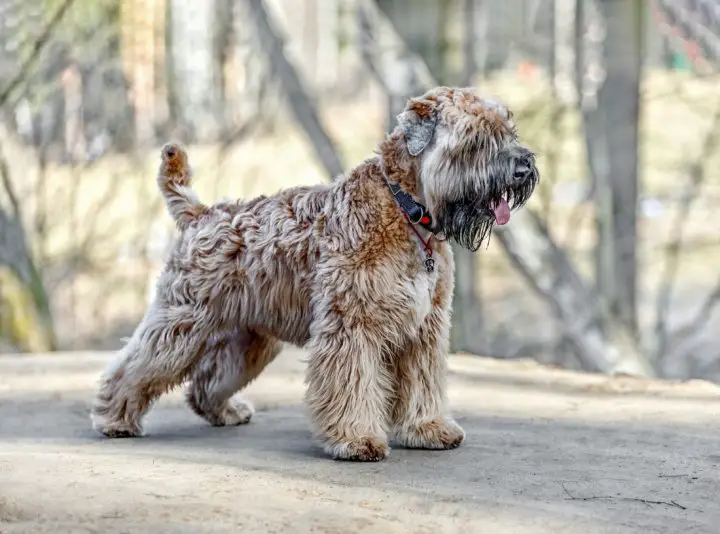 The Irish Soft Coated Wheaten Terrier is medium-sized, brave, with coordinated movement, with a square body contour. Important traits: softness, threadlike, slightly wavy coat, soft wheaten color, moderate temperament. Physical structure and appearance: moderate, any deviation is not welcome. Temperament: An attentive and cheerful animal, elegant, strong, and well-coordinated. Lives in Ireland since the eighteenth century. Irish Soft Coated Wheaten Terrier – Irish Terrier – is common in Kaili and the Kirk region. Dexterously copes with otters and badgers.
Male height: 45.7 ~ 48.3 cm, ideal height 47.0 cm. Female height: 43.2 ~ 45.7 cm, ideal height 44.5 cm. Main defect: male height below 45.7 cm or higher 50.3 cm, bitch height below 43.2 cm or above 45.7 cm. Penalties will be imposed depending on the severity of the deviation. Contour: square, strong, symmetrical. Male weight: 15.88 ~ 18.14 kg. Bitch weight: 13.61 ~ 15.88 kg.
The Irish Soft Coated Wheaten Terrier is a cheerful, stable animal that presents itself in all its glory with a pinch of self-confidence. He is attentive and shows interest in the surrounding area; shows less aggressiveness than sometimes required from other terriers. The main vice: fearfulness or excessive aggressiveness.