Name: Chinese Crested Dog
Other names: Crested, Puff
Country of origin: China, Africa, Mexico
Size Type: Small Dog Breeds
Group: Indoor Dogs, Decorative Dogs
Life span: 13 – 15 years
Temperament: Happy, Playful, Gentle, Alert, Lively, Sweet tempered
Height: Females: 23-30 cm; Males: 28-33 cm
Weight: Females: 2.3–5.4 kg; Males: 2.3–5.4 kg
Color: Black, Cream, Blue, Chocolate, Apricot, Tri-color
The price of puppies: $800 – $900 USD
Hypoallergenic: Yes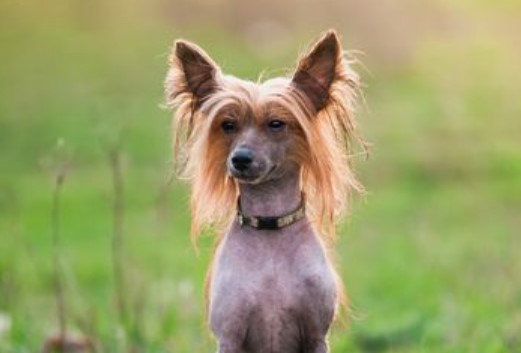 The Chinese dwarf crested dog is the only hairless decorative dog in the world. It comes from China, where it was very popular, as its tuft closely resembles the official hat used by the Qing dynasty. Breed The Chinese Crested Dog has two varieties. In 1975, the breed was first introduced to the United States. Belongs to decorative dogs, whose height does not exceed 33 cm. Skin color, its color variety includes black with blue spots, pink bottom with brown spots. The Chinese decorative crested dog loves cleanliness, softness, kindness, very loving and gentle, very well suited as a general pet.
The body has rectangular proportions. The backline is flush with the croup, which is slightly sloping. The loin is light, the belly is relatively tucked up. The chest is very deep and broad, reaching to the elbows. The sternum is not protruding. Ribs well developed, but not round.
The Chinese Crested Dog by its nature is very cheerful, cheerful, intelligent, brave, very alert, does not bite or make noise for no reason. Very small, kind, loves cleanliness, does not stink, good shape, sweetheart.