Name: Toy Fox Terrier
Other names: American Toy Terrier, Amertoy
Country of origin: USA
Size Type: Small Dog Breeds
Group: Household dogs, Decorative dogs, Terrier breeds
Life span: 13 – 14 years
Temperament: alert, energetic, intelligent, friendly, playful, loyal
Height: 21.5-29.2 cm
Weight: 1.59 – 4.08 kg
Color: Black and white, Tri-color, White and Chocolate, White and brown-tan
Price of puppies: $500 – 800 USD
Hypoallergenic: No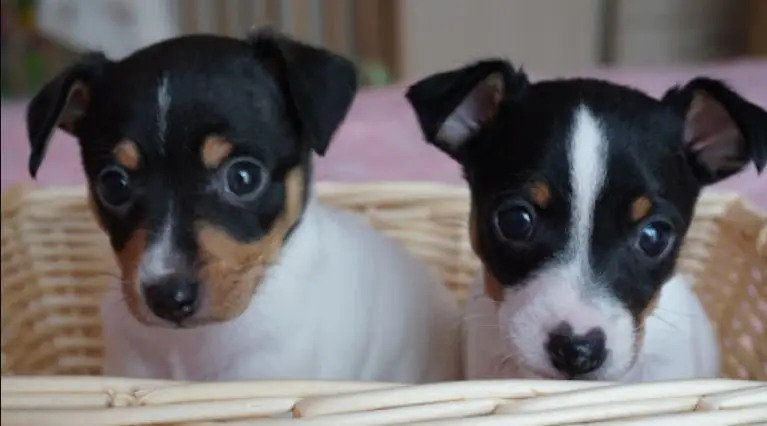 The American Toy Fox Terrier was introduced around the 1930s. in the USA, by crossing small smooth-haired fox terriers of the best selection, and at the final stage, English Toy Terriers (Manchester, British) and Mexican Chihuahuas took part in the creation of the breed. The Toy Fox Terrier is a well-built dog with beautiful proportions, with all its athletic appearance declaring itself as a mature, intelligent, healthy, and energetic dog. They made excellent companion dogs and show dogs. However, the toy fox terrier retained all the hunting instincts of a hound and, on occasion, could show them off. In 1936, the breed was recognized by the American Kennel Club. With proper training, the toy terrier can be used as a disabled companion.
It resembles a Chihuahua in features, has large, round, dark eyes. The ears are V-shaped and located on the outer edges of the skull. A strong and agile dog with a straight back, straight forelimbs, light bones. Powerful croup. The feet are round and wide. The tail and trunk are straight. The hair is short and thick. The main background color is white.
The American Toy Fox Terrier is a smart and agile dog. She makes a good companion. Restrained and determined. Temperamental, fearless, very hardy for her size. Not very sociable with other dogs. Many of them are funny, entertaining, and remain playful for a lifetime, which is quite long compared to many other breeds. They are friendly and delicate to the owners, not capricious. As a rule, they are well trained and easily get used to the show.