Name: Xoloitzcuintli
Other names: Xoloitzcuintle, Mexican Hairless Dog, Xolo, Xolito
Country of origin: Mexico
Size Type: Small Dog Breeds
Group: Non-Sporting Dog Breeds, Greyhounds, and Pariah Dogs
Life span: 12 – 15 years
Temperament: Alert, Companionable, Protective, Intelligent, Cheerful, Calm
Height: Toy: 25 to 36 cm; Miniature: 36 to 46 cm; Standard: 46 to 58 cm
Weight: Toy: 4.08 to 8.16 kg; Miniature: 5.9 to 9.98 kg; Standard: 9.07 to 14.06 kg
Color: Black, Tiger, Fawn, Bronze, Copper and White, Chestnut
Price of puppies: $600 – 800USD
Hypoallergenic: Yes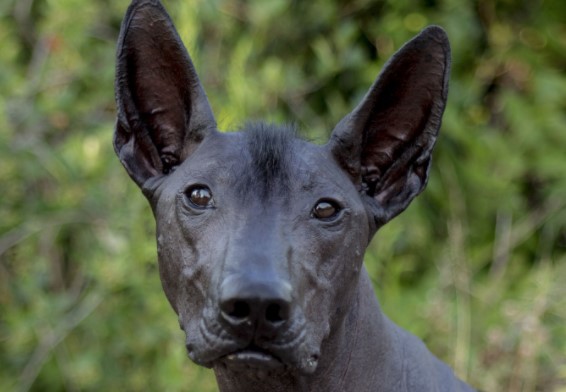 The Xoloitzcuintli is a Mexican hairless dog that was used as a pet and also as a "live" warmer in bed, but the breed never became popular. These intelligent, lively, sensitive animals are often compared to the ancient African stray dog and the European terrier. In terms of its physiological characteristics, it is similar to the classic greyhound, and in character – to the Foxhound.
The chest is long and deep, dropping down to the elbows. The sternum should not protrude excessively. Ribs slightly sprung. The topline is perfectly straight and level. The loin is strong and muscular. The croup is slightly arched, with a slope of approximately 40 degrees to the horizon. The abdomen is muscular and moderately tucked up.
By their nature, they are calm, cheerful, and alert dogs, with a thoughtful, intelligent, and lively expression in their eyes – a living personification of nobility and devotion. They are distrustful of outsiders but do not show aggression. They are unusually silent. They make good watchdogs.