Komodo Dragons are the biggest lizards that have survived to our time, and in this, they were helped by the isolation of the island and the timely appearance of people.
The biggest of modern lizards – the Komodo dragons (Varanus komodoensis) – is a unique object of research. Suffice it to say that proteins are isolated from their blood, which can become an alternative to antibiotics in the fight against bacterial infections. The very existence of these ancient giant lizards remains amazing. The authors of a new article, published in the journal Global Ecology and Conservation, have sorted out an almost miraculous history of their survival.
Reaching a length of up to three meters and a mass of over 130 kilograms, the lizards are the dominant predators on Komodo and several neighboring small islands, sometimes even hunting buffaloes. At the same time, their homeland is to the south: paleontological data indicate that "dragons" appeared in Australia about four million years ago and lived side by side with even bigger relatives of Varanus priscus. Not so long ago, during the period of another cold snap and a decrease in the level of the World Ocean, some of them were able to move to the current Komodo. Here, on hard-to-reach patches of land, they were able to survive the appearance of a man who, having arrived in Australia about 50 thousand years ago, soon destroyed the continent's megafauna.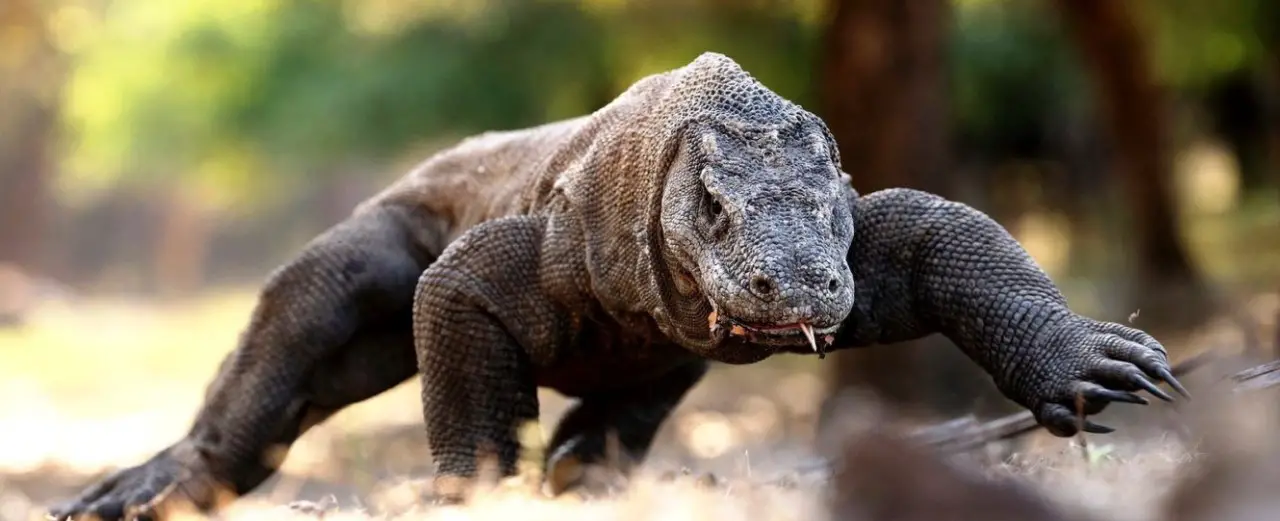 Komodo Island is arid, not too fertile, and small, which is why there were no permanent settlements of people on it until relatively recently, which saved the lizards from extermination. In addition, cold-blooded lizards consume orders of magnitude less energy and can survive by spending a lot of time in a daze and feeding only from time to time. Apparently, survival was difficult: if necessary, the lizards went on to catch turtle eggs or simply ate each other. Finally, staying on such a limited diet, they were smaller. In the most difficult situations, females could produce offspring by parthenogenesis, without fertilization.
The present position and the gigantic size of the Komodo Dragons were largely contributed by the people who appeared here seven to ten thousand years ago. Not specializing in any particular prey, these predators easily switched to new prey – deer, pigs, and buffaloes introduced by humans. From that moment on, their sizes began to increase, and "dragons" occupied the niche that their ancestors once occupied in Australia – the niche of dominant predators, albeit on a tiny piece of land.
For those people who dare to have Komodo Dragon as a pet, we present a list of unique names for these giant lizards:
Komodo Dragon Scientific Names
Varanus komodoensis
Komodo monitor
Monitor lizard
Latin Names for Komodo Dragon
Avitus – hereditary
Adeodetus – given to God
Adolphus – the noble wolf
Aegidius – child, young goat
Aeson – What's Done
Aemilius – rival
Aemilianus – rival
Aeneas – praise
Aeolos – agile, fast movement
Aetius – eagle
Aeshilus is a shame
Akecius is not evil
Almericus – the power of work
Aloysius is a famous warrior
Alois is a famous warrior
Aloisius is a famous warrior
Alfeos – changes
Alfeus – changes
Alfoeus – changes
Alfonsus – noble and ready
Alphonsus – noble and ready
Alfeus – changes
Amadeus – to love God
Amandus is attractive
Ambrosius – immortal
Americus – the power of work
Ametus – favorite
Anastasius – recovery
Androcles – the glory of a man, a warrior
Andronicus – the victory of a man, a warrior
Anenkletus – Summoned
Angelus – angel, messenger
Anisetus – Invincible
Antoninus is invaluable
Anastatius – of the restorations
Anatolius – East and Sunrise
Apollo the destroyer
Appius – sharp
Argus – shining
Aries – battering ram
Aristarkus – Superior Lineage, Source
Aristides – excellence
Aristocles – Superior Glory
Aristotle is an excellent target
Aristeus – excellence
Arminius – Army Man
Archelaus is the owner of the people
Athanasius – immortal
Atilius – Roman surname of unknown meaning
Atticus – from Attica
Attius – Pope
Aurelius – golden
Ahchiles – pain
Acheikus – from Acheia
Ajax – attending the funeral
Benedictus – Blessed
Benignus – kind
Blasius is bad diction
Bonifatius – Good Destiny
Brendanus – prince
Brennius is the king
Brikius – multicolored, specific, variegated
Bricktius – multicolored, specific, variegated
Brutus – heavy
Backchus – scream
Valerian – strong
Valerius – strong
Velius – hidden
Virgilius – twig, hunt, stick
Verissimus – very true
Verus is true
Viator – the traveler
Vivianus – lively, lively
Vic – conquer, victory
Victor – conquer, victory
Victorinus – conquer, victory
Victorius – Conquer, Victory
Vinicius – grapevine
Vinkentius – conquering
Vincennes – conquering
Virginius – virgin
Vitalis – from life, life
Vitus – life
Volcano – Flash
Valentinus – healthy, strong
Valerianus – Strong
Varinius – universal
Varius – universal
Gaius – pleasing
Gallus – rooster
Gandizelvus – genius of battle, war elf
Hector – protect, hold fast
Gennadius – noble
Gironimus – the holy name
Glosia – bluish gray
Gordian – from Gordium
Gordienus – from Gordium
Gregorius – cautious, vigilant
Griffinus – leader, lord
Grekilis – thin
Gratian – Pleasing, Pleasant
Gratianus – Pleasing, Pleasant
Gustavus – the meditator
Gabinus – from Gabium
Gavius ​​- the delightful
Gelenus – calm
Dayodorus – a gift from Zeus
Diodotus – the giver of Zeus
Dionysus – Zeus
Darius is rich
Daurentius – from Laurentum
Desiderius – Great Desire
Delicius – admiration
Demetrius – loves the earth
Democritus – judge of people
Deodetus – given to God
Desebelus – strong as ten
DeSimus is the tenth
Deusdedit – given to God
Janus – vaulted passage
Jason – Heal
Jervasius – Servant of the Spear
Jermanus – brother
Gerontius – like an old man
Gilebertus – bright for reassurance
Gillebertus – bright for reassurance
Joannes is a good god
Jovita – God
Jodokus – Lord
Josephus – he will multiply
Jove is a god
Juvenalis – young
Juvenal – young
Julianus – with a soft beard, symbolic reference to youth
Junius – life force
Justinus – fair
Justus – fair
Januerius – January
Didagus – teaching
Didacus – teaching
Dionysius – follower of Dionysus
Dominicus – owned by the lord
Domitius – tamed
Domithien – tamed
Domitienus – tamed
Donatus – given (by God)
Doraseus – a gift from God
Dorienus – of the Doric tribe
Draco is a dragon
Duilius – war
Daedelus is a cunning worker
Damienus – Kill
Damokles – the glory of the people
Evander is a good man
Erbgenius – privileged birth
Erbenus – city dweller
Ersinus – like a bear
Ersus – bear
Eugenius – Well Born
Zeno – from Zeus
Zephyrinus – west wind
Zosimus – Survive, Survivor
Zoticus – full of life
Zalonius – names starting with "diets"
The Zamistocles – Glory of the Law
Theodosius – granted by God
Theodotus – God-given
Theodulus – the slave god
Zeocritus – God-Judge
Kalix is ​​the most beautiful
Callixtus is the most beautiful
Callistus is the most beautiful
Kalyas – beauty
Carpus – fruit, profit
Castor – beaver
Kato – the wise
Cyprianus – from Cyprus
Kyriekus – of the lord
Claudius – lame
Cleistenes is great strength
Clemens – gentle and merciful
Cleopas – Father's Glory
Cleopetros – Father's Glory
Cletes – the summoned
Cletis – glory
Cletus – Glory
Climacus – stairs
Clitus – glory
Columbanus – pigeon
Columbus – dove
Constant – stable
Constantine – steady
Constance – steady
Constantinus – steady
Konstantius – steady
Consus – sow
Cornelius – horn
Cornell – horn
Creon – ruler
Crescentius – growing, prosperous
Crispinus – curly (headed)
Crispus – Curly (Headed)
Christianus is a follower of Christ
Christos – the anointed one
Krius – owner, ruler
Kronos – horn
Cronus – horn
Xenthus – yellow or blonde
Quick – men together
Quintinus – the fifth
Quintus – fifth
Cupid – desires
Caitanus – from Keita (Gaeta, Italy)
Kayus – rejoice
Caligula – small shoe (slipper)
Calogerus – handsome, senior
Camillus the keeper
Carolus – Human
Kareitakus – dearly beloved
Cassius – empty, hollow
Cassian – empty, hollow
Curinus – men together
Ladislas – reigning with glory
Ladislaus – reigning with glory
Lander – the lion man
Leo is a lion
Leonius – lion
Leontinus – like a lion
Leontius – like a lion
Lieber – free
Liberius – free
Livius – bluish
Livianus – bluish
Lizimakhus – freedom fighter
Linus is a cry of sorrow
Longinus – long
Lorentinus – from Lorentum
Lorus – laurel
Ludovicus is a famous warrior
Lucas – from Luchenia
Lucianus – lightweight
Lucretius is rich
Lukurgus – the work of the wolf
Lupus – the wolf
Lucius – light
Laelius – lunar
Laelianus – lunar
Latienus – Lazio Affiliation
Lucifer – a light binge
Macarius – Blessed
Manius – morning
Marius is a man, mature
Markellinus – Warlike
Marcus is a warlike
Mars – out of the sea, war
Marcius – warlike
Marsselus – Warlike
Martinus – from Mars
Martielis – from Mars
Mahimus is the largest
Menelos – Opposing Humans
Methodius – method
Cute – use, grace
Modestus – Moderate, Sober
Morikius – dark-skinned, Moor
Morus – dark-skinned, Moor
Mugnus – larger
Maxentius is the biggest
Maximilianus is the largest
The maximum is the largest
Maximian is the largest
Manilius – morning
Manlius – morning
Marinus – from the sea
Marianus – as Marius
Salvator the savior
Salvatore the savior
Sammanus – night time
Saturn – sow
Sebastianus – from Sebaste
Severinus – strict
Severianus – strict
Severus is strict
Felikianus – lucky
Felix – Lucky
Ferox – arrogant, stubborn
Festus – festive
Fidelis is a devotee
Jacobus – displacing
Indonesian-Inspired Names
Arlo (the character from the movie "The Good Dinosaur")
Asher (miracle)
Baja (armor)
Bejo (lucky)
Bisa (venom)
Dasami (island near Komodo)
Gili (island near Komodo)
Guru (teacher)
Kado (gift)
Senang (happy)
Komodo Dragon Other Names
Ao Kuang
Balerion
Falcor
Godzilla
Haku
Jabberwock
Pendragon
Reptar
Rhaegal
Scylla
Sharptooth
Shenron
Smaug
Sobek
Tiberius
Viserion
Xerxes
Abraxas
Blackbeard
Bluebeard
Claws
Draco
Drake
Elliot
Gila
Jade
Kimono
Leap
Merlin
Puff
Rainbow
Raptor
Spike
Spook