The food a dog receives influences its health and behavior. Some products help to improve the quality of wool, others cause problems with the skin, ears, so it is important to make a balanced diet of the Bernese Mountain Dog.
And given that the breed is prone to a number of diseases, then regardless of the type of feeding, the food should be of high quality, rich in nutrients and amino acids.
Dry Food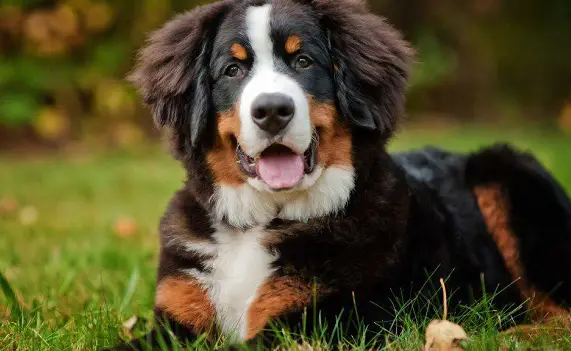 For the Bernese Mountain Dog, feed with a protein content of approximately 18-26% and a moderate fat content of up to 16% should be selected. Too fatty food can cause obesity in inactive dogs, in some cases fatty food causes diarrhea.
It is important to study the composition, since some ingredients, chemical preservatives, additives can lead to an allergic reaction, in particular itching, watery eyes, and digestive problems.
Should not be in the composition of soy, wheat, corn, especially if the pet has a tendency to allergies.
The presence in the composition of fat sources, for example, chicken, fish, is encouraged. The fatty acids in these foods help maintain healthy joints, skin, and coats.
Among the ready-made feeds, attention should be paid to dry feed for giant breeds of the brands Innova, Canine, Orijen, Evo, Canidae, Eagle Pack, as well as grain-free feed. Sweet potatoes are usually an alternative source of carbohydrates in these foods.
Natural Food
The basis of the diet of the Bernese Mountain Dog is lean raw meat, namely beef, lamb, chicken, as well as sea fish. You can alternate meat with offal.
Vegetables are given with meat, in particular carrots, broccoli, zucchini, pumpkin. Fresh fruits can be given as a treat – apples, pears, bananas. Vegetables and fruits are selected according to the personal preferences of the dog. If the dog does not eat, for example, zucchini, then you do not need to include them in the diet.
Rice, oats, barley are optimal – good sources of dietary fiber. In addition to the main dish 1-2 times a week, you should give your dog raw or boiled eggs (1 egg per day), dairy products (yogurt, cottage cheese, low-fat kefir).
Fish oil, flaxseed, containing Omega-3 and Omega-6 fatty acids, have a beneficial effect on the condition of the animal.
So, the diet of the Bernese Mountain Dog should consist of 40-60% meat, 10% offal, 10-20% vegetables and fruits, 10% kinds of cereal, and dairy products.
In the case of age-related diseases, it is important to adjust the diet, for example, in the case of heart disease, sodium intake is limited, in animals with renal insufficiency, phosphorus intake is limited.
To maintain the immune system normally, foods and ready-made feeds should be rich in vitamins, minerals, antioxidants, and also include chondroitin and glucosamine supplements.
For any type of feeding, a bowl of fresh drinking water should always be available, especially during summer.
Feeding Bernese Mountain Dog Puppies
For dogs of large breeds, it is dangerous to feed large amounts of high-calorie food during the period of active growth. This approach to nutrition will lead to increased stress on joints, ligaments, bones. Overfeeding can lead to diarrhea.
Up to the age of 2 months, babies are fed 5 times a day. Puppies up to 4 months of age should have four meals a day. From 6 months they are transferred to three meals a day, and from 8 months they are fed 2 times a day.
Bernese Mountain Dog puppies are weaned from their mothers at the age of 3-4 weeks. During the first week of weaning, breast milk is diluted with water. Solid food is gradually introduced.
From 2 months old Bernese Mountain Dog puppies is fed meat with the addition of 2-3 tbsp. l. boiled cereals (rice, buckwheat), 1 tbsp. l. steamed vegetables and 1 tsp. vegetable oil. In another feeding, they give cottage cheese with the addition of kefir and 1 egg (not every day, but 2 times a week). The meat is alternated with fish, which is given twice a week. Fish, preferably seafood, boiled, boneless. If 100 g of meat is given, then 150 g of fish is required, with the exception of fatty varieties, for example, salmon (given in the same amount as meat).
From 3 months, you can enter by-products (rumen, chicken stomachs, necks, paws), proportionally increase the number of cereals, fermented milk products (no more than 300 g per day), vegetables.
A puppy up to 6 months old requires 30-40 g of meat per 1 kg of body weight. The increase in the amount of meat in the diet of a puppy is carried out weekly by 25-30 g. By 6 months the amount of meat should increase from 100 g to 500 g. After 6 months, the number of feedings is reduced, and meat is given at the rate of 20-30 g per 1 kg of body weight.
The balance of calcium, other minerals, and vitamins must be observed. If the diet is balanced, then there is no need for additional vitamin and mineral supplements.
How to Feed
At the age of 8-10 weeks, puppies weigh 5.4-10 kg. Puppies in this weight range require 400-650 calories per day, while a puppy weighing about 27 kg (8 months) consumes 1,600 calories per day, but energy levels need to be considered. As the puppy grows, food intake increases.
Elderly dogs need 1,500 calories per day, healthy adults need 1,800 calories per day, active and working dogs need about 3,000 calories per day. For example, an adult active Bernese Mountain Dog weighing about 45 kg should consume about 2,200 calories per day. Sterilized and neutered individuals need fewer calories.
After eating, you need to wait 1-2 hours before physically loading the pet, walking. Exercise on a full stomach leads to volvulus. It is recommended after exercise, workout to wait from 30 minutes to 1 hour and only then give the animal food.