Lucky fishermen off the coast of Shetland have managed to catch a huge 70 kg halibut. The large fish was sold to the restaurant, and according to the orders of the chef, it will be enough to feed 300 people.
The huge halibut is believed to be about 50 years old. It is about three times larger than normal individuals of this species. The amazing fish was sold to a fish restaurant for $ 1,500, where it will be used in approximately 300 servings. According to the estimates of the administration, the fish will bring three times more to the restaurant than it was paid for. Halibut dishes will be served at the restaurant.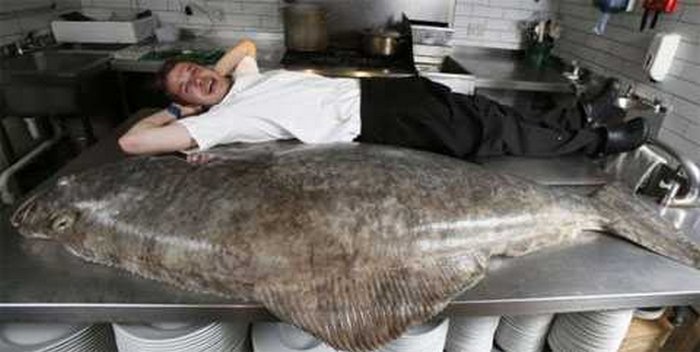 The fish is so big that its head is larger than that of Chef David Scott, who was tasked with butchering it. Scott works as a chef at a restaurant that serves fish and chips for $ 15. He promises to make a huge halibut fillet with shrimps, garlic sauce, and curry.
The rare giant fish has been caught in the deep waters of the North Sea, near the Shetland Islands, Scotland, by commercial fishermen. Fishing boat owner John McLeod said: "I think none of us will ever see a halibut bigger than this one again."
John Vallance, the restaurant administrator, told the British tabloid Mail Online: "The 70-kilogram halibut is extremely rare. Often, the halibuts we buy weigh 20-30 kilograms."
However, even though the 70-kilogram halibut made an impression on the restaurateurs, it is far from a record. In 2010, German fisherman Gunther Hansel pulled a 220-kilogram monster out of the water, which was sold for $ 2,500. It is worth noting that at that time the fisherman was 70 years old.
Prior to that, the largest halibut was considered to be a fish that weighed 210 kilograms, caught off the coast of Norway in 2009.
Halibut is one of the largest fish in the world and can grow up to 4.5 meters in length. In the past few decades, the catch of this fish has increased excessively, and the International Union for Conservation of Nature has listed halibut in the Red Book.