Large and powerful Dogue de Bordeaux need quality food and in considerable quantities. While the puppy is small, you should immediately decide on the type of feeding.
When feeding with natural food, you will need huge reserves of food that must be stored somewhere, or you must visit markets and shops every day. You have to prepare food every day. Dry food makes feeding easier, but quality food is expensive.
Natural Feeding of the Dogue de Bordeaux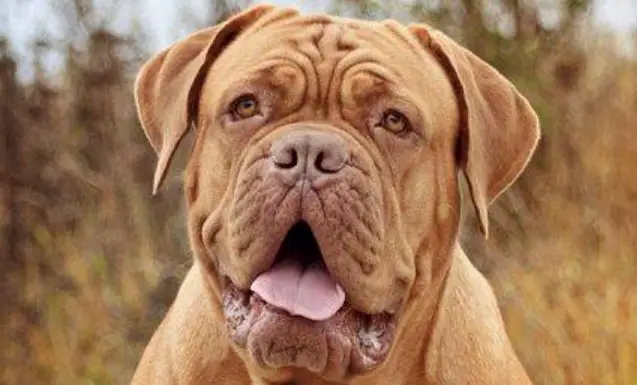 The basis of the diet of the Dogue de Bordeaux is fresh meat and its different types. Beef, lamb, chicken, turkey are served raw with stewed or fresh chopped vegetables (pumpkin, carrots, broccoli, zucchini), boiled rice. The meat is alternated with meat offal (beef or lamb). The puppy is fed with beef scraps or minced meat, in small quantities they give tripe. It is allowed to add 1 tbsp to cereals. l. vegetable oil.
Several times a week, the pet is pampered with sugar bones or chicken necks, lamb neck, cartilage. Bones are given only raw. Pork ears, dried liver, and other similar delicacies are allowed as a treat.
Once or twice a week they organize a fish day, the meat is replaced with frozen sea fish. Fish species are chosen low-fat.
Twice a week, a raw or boiled egg is included in the diet. One egg is enough, it is pre-peeled from the skin, you can give it whole or chopped. A raw egg is served with cottage cheese.
It is necessary to feed the Dogue de Bordeaux with fermented milk products, in particular, natural yogurt, cottage cheese, but not low-fat and not high-fat. You can add 1 tsp of honey to yogurt. Fermented milk products are given several times a week in one feeding, separately from other products.
From fruits, you can give bananas, melons, green apples. Fruit is appropriate to give as a treat between feedings, in small quantities.
Dry Food for Dogue de Bordeaux
Preference should be given to high-quality dry food since their formula has been developed taking into account the developmental characteristics of large dog breeds. Correctly selected food reduces the risk of developing joint problems due to the balanced composition.
Until two years old, the Dogue de Bordeaux remains a puppy, since during this time the dog continues to grow. But this does not mean that you need to feed the Dogue de Bordeaux puppy food for 2 years. Nutritional requirements change as the body develops and from the age of one, the dog is gradually transferred to dry food for adult dogs. The transition is carried out slowly because otherwise digestive problems are possible due to increased sensitivity of the stomach.
When choosing dry food for the Dogue de Bordeaux, it is important to study the composition. Food must be safe for dogs. The most suitable are grain-free foods rich in protein (turkey, lamb, beef). Soy, corn, wheat should not be present. Calorie content should not exceed 4000 kcal per 1 kg of food. The amount of calcium should not be higher than 1.6%, and phosphorus – 1.4%. Dry food Orijen, Acana, Evo deserve attention.
Dogue de Bordeaux Feeding
The amount of daily serving size depends on the weight of the puppy. If the animal eats dry food, then the feeding rates are indicated on the package. However, these norms also need to be adjusted, taking into account the needs of the dog's body. For example, a pet weighing about 54 kg, leading an inactive lifestyle, needs a reduced calorie content – about 2120 kcal per day is enough.
Dogue de Bordeaux puppies grow very quickly, they gain 1-2 kg per week (average). Therefore, additional dramatic increases in weight through overfeeding should be avoided. During the first year of life, the amount of food consumed is important to strictly control. Rapid growth negatively affects the formation of the skeleton and joints.
It is enough to feed an adult dog 2 times a day, morning and evening. Puppies are fed 5-6 times a day, but from 6 months the number of feedings is reduced to 3-4 times, and by the age of one, they are transferred to two meals a day.
With natural feeding, it is necessary to additionally include calcium in the diet, but in moderation, since an excess of calcium, however, as well as its lack, leads to the appearance of problems with the development of the skeletal system. When feeding premium food, additional calcium is not required.
Dogue de Bordeaux is among the dogs prone to gastric volvulus. Therefore, it is advisable to feed the pet an hour before the walk and 1-2 hours after the walk. For the same reason, food should not be swallowed quickly.
Drinking water should always be available for natural feeding and dry feeding. The Dogue de Bordeaux drinks a lot of water, especially in the heat. During the day, the water is changed.