Name: Alaskan Kli-Kai
Other names: Klee Kai, AKK
Country of origin: USA
Size Type: Medium Breed Dogs
Group: Northern dogs
Life span: 12 – 16 years
Temperament: Active, Curious, Intelligent, Agile, Fast
Height: Toy: up to 33 cm; Miniature 34-38 cm; Standard 39-43 cm
Weight: Toy up to 4.1 kg; Miniature 4.5-6.8 kg; Standard 7.3-10 kg
Color: White, Black and white, Red and white, Gray and White
Price of puppies: $1,500 and $3,000 USD
Hypoallergenic: No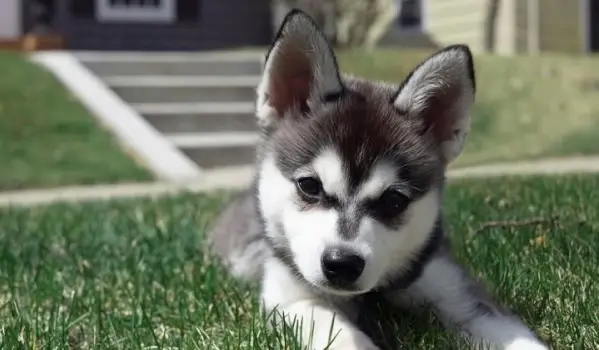 The Alaskan Kli-Kai is a lively, agile, and tolerant dog breed. Territory defender and an excellent watchdog.
In profile, the length of the body from shoulder to point is slightly greater than the height at the withers. The withers are slightly higher than the croup. The topline is straight from the back of the withers to the slightly arched loin. The croup is wide and slightly sloping. The ribs are well arched from the spine and form a firm back, then bend downward and inward, forming a body that would look almost like a heart in cross-section. The loin is strong and short, narrower than the ribcage, and slightly tucked up. The ribcage is moderately wide and tapers towards the elbows. Seen from the side, the lowest point of the ribcage is just behind the forelegs. The chest should protrude in front of the forelegs with a slight oval, but the sternum should not be excessively prominent.
Active, inquisitive, smart, quick-witted, fast.