The peculiarity of Golden Retriever dogs is their unusual coat color, for which they were nicknamed "Goldens". Shimmering in the sun, it resembles liquid gold, which makes its owners look like real jewelry, the prices of which simply cannot be added.
Golden Retriever Dog Breed Info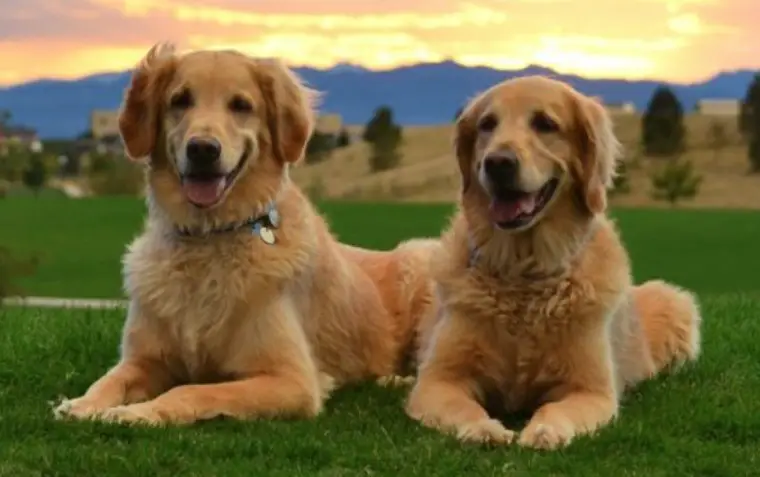 Attractive appearance and positive temperament traits have made Goldens one of the most recognizable breeds. In American families, every third dog lover owns these cute and smart animals.
Important! The Retriever is not only a good friend, loyal servant, and resourceful rescuer and hunter, he is also a talented actor. To date, a large number of movies have been released in which retrievers played key roles.
Maximum Height
According to the standard approved by the FCI, the average height of a dog should be no more than 61 cm and no less than 56 cm. For a female, a height from 51 to 56 cm is considered normal.
Weight
The minimum weight for a male is 26 kg, the maximum is 42 kg. The minimum for the female is 25 kg, the maximum is 37 kg.
Coat Colors
Purebred representatives of the breed can have a golden coat of all shades (up to cream). Long hairs on legs and tail can be colored in lighter colors.
Important! The "Americans" have a slightly darker coat than the "British". "Canadians", in turn, can boast of an even more saturated shade of "fur coat" than "Americans".
Coat
Golden's coat is thick, hard, tight to the body. A dense, waterproof undercoat is located under the long awn. The longest hairs in golden are on the tail, back of the legs, on the body, chest, and ears. The shortest sections are located on the head and front of the legs.
Ears, Tail
The ears are set above the line of the eyes. The base is wide, the tip is rounded. The ears hang down, drooping along with the dog's eyes. The tail is thickened at the base and narrowed towards the tip. Located below the back.
External Characteristics of the Golden Retriever Puppy
Golden Retriever puppies resemble toy teddy bears. Cute and charming, they are every child's dream.
Height
At the age of 1 month, a golden puppy must be at least 23 cm at the withers. At 3 months, its growth is 39 cm, at 6 – 50 cm. The parameters of an adult golden individual reach at 11-12 months.
Weight
The bodyweight of a month-old retriever is 3.4 kg. At 3 months, the baby is still a chubby round with a weight of 12-14 kg. At 6 months, the puppy already weighs 25 kg, at 9 – 30 kg.
Color, Coat
If the baby was born with white spots on the coat, he will not be allowed to the exhibition, as this belongs to the category of defect.
Ears, Tail
Neither the ears nor the tail of the Goldens are docked. A too drooping tail is considered a defect.