Name: Karelian Bear Dog
Other names: Karelian bear husky, Karjalankarhukoira, Karelsk Björnhund
Country of origin: Finland
Size Type: Medium Breed Dogs
Group: Northern dogs
Life span: 11 – 13 years
Temperament: Steadfast, Wary, Loyal, Brave, Independent, Territorial
Height: Males: 54-60 cm; Females: 49-55 cm
Weight: Males: 20-23 kg; Females: 20-23 kg
Color: Black and white, Black
Price of puppies: $1400 – $1700 USD
Hypoallergenic: No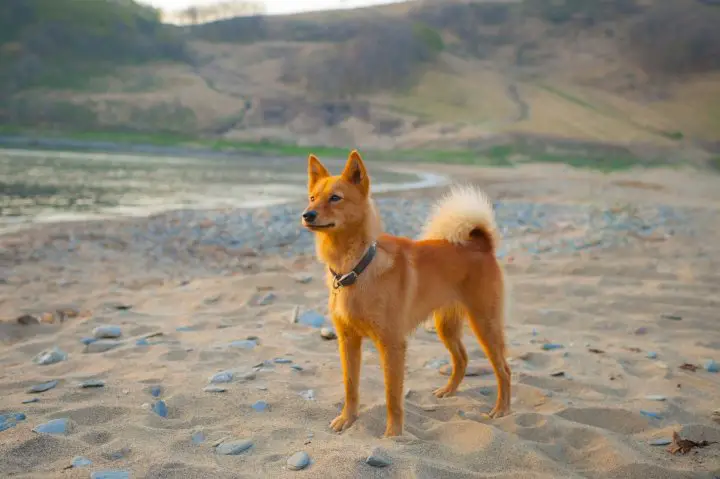 The Karelian Bear Dog is a medium-sized breed of dog, a type of Spitz, with a dense build, the head is triangular, the ears stick out, the coat is thick and straight, it can be black or black with white, and is of medium length. The length of the body, from the point of the buttocks to the tip of the sternum, is slightly longer than the height at the withers. Due to the fact that the hair on the thighs is slightly longer than on other parts of the body, it may appear longer. The tail is loosely curled over the back, it is also considered acceptable if the tail is not curled or cropped. Also on the body is allowed the presence of scars or other marks resulting from the field robot.
The length of the body of the Karelian Bear Dog (measured from the sternum to the buttock) is greater than the height (measured by the distance from the withers to the ground). Starting at the withers, the line of the backdrops slightly and then levels out again. The back is well-muscled, with short, muscular, and broad hindquarters and a slightly sloping croup. Ribs moderately bent from the spine, resulting in a strong back. The ribcage is moderately wide and reaches the level of the elbow. The front part of the ribcage should be oval and in the area of ​​the forelegs, but it cannot protrude noticeably. There is a slight but noticeable rise in this area.
The Karelian Bear Dog has a consistently calm temperament and is very loyal to its owner. This breed has highly developed hunting instincts. They tend to be aggressive towards other dogs, especially on their own territory, so they cannot work well in pairs. They are brave and confident, and they can attack bears and other large animals without hesitation. They are never aggressive towards people.