Name: Papillon
Other names: Papillon, Continental Toy Spaniel, Phalène (drop ear type), Continental Toy Spaniel, Epagneul Nain Continental
Country of origin: France
Size Type: Small Dog Breeds
Group: Indoor Dogs, Companion Dogs
Life span: 13 – 15 years
Temperament: Friendly, Alert, Energetic, Happy, Hardy, Intelligent
Height: Males: 20-28 cm; Females: 20-28 cm
Weight: Males: 3.6-4.5 kg; Females: 3.2-4.1 kg
Color: Fawn and White, Red and White, Brown and White, Sable, Black and White, White
The price of puppies: $500 – 1500 USD
Hypoallergenic: No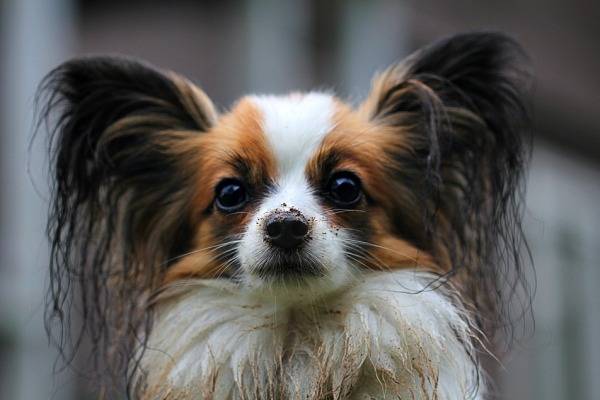 Papillon is one of the luxurious and elegant companion dogs. This is a breed of indoor decorative dogs, which is characterized by small body sizes and good adaptability. Outwardly, these are very beautiful, small, and graceful dogs, real ladies heartbreakers.
The Papillon is a harmoniously built dog with a body slightly longer than the height at the withers and with a thin bone structure. Weight is proportional to the height of the dog at the withers. The head is small, slightly rounded. The transition from forehead to muzzle is well marked. The nose must be black. The eyebrows are angled. The muzzle is pointed. White color on the head is preferable in the form of a more or less wide bore.
Papillon is an easily attached, affectionate, intelligent dog. Cheerful, attentive, and friendly. Despite the apparent fragility, it has a strong body, requires constant physical exertion. She strives to occupy a dominant position in the heart of the owner, in relation to others she is very jealous. Lively and active. Brave, able to adapt to the mood of the owner, obedient, neutral towards strangers.