Name: Portuguese Water Dog
Other names: Cão de Água Português, Portie, PWD, Water Dog
Country of origin: Portugal
Size Type: Medium Breed Dogs
Group: Working Dog Breeds, Gun Dog Breeds
Life span: 12 – 15 years
Temperament: Brave, Grumpy, Obedient, Intelligent, Swift, Obedient
Height: Females: 43-52 cm; Males: 50-57 cm
Weight: Females: 15.9-22.7 kg; Males: 19.1-27.3 kg
Color: White, Brown and white, Black and white, Brown, Black
Price of puppies: $1,500-$3,000 USD
Hypoallergenic: Yes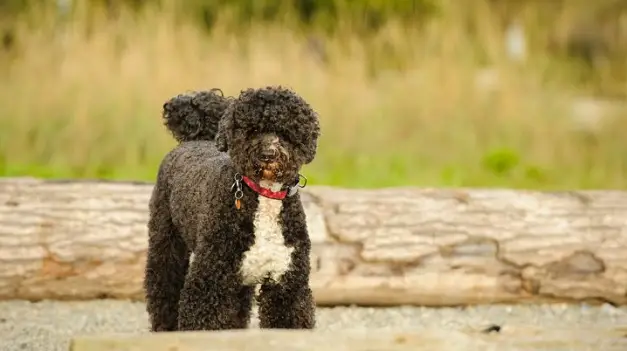 The homeland of the Portuguese water dog is the coast of Portugal, but at the same time, sailors and fishermen brought the breed to Iceland, located relatively nearby. Fishermen in the Portuguese Algarve region have bred a number of dogs with excellent swimming qualities, diving ability, special talent, and steadfastness. They were often used to deliver messages, feed fish in nets, search the sea for lost fishing gear, deliver messages between boats and shore. Loyal companion and watchful watchman. The Portuguese Water Dog has two types of coat: the first is a long coat with a slightly curly or wavy structure; the second is a short thick coat, it all depends on the parents. The Portuguese Water Dog is a very practical working breed, brave, conscientious, trying hard to follow orders, able to work in any weather.
Sizes: Males are 20-23 "tall, ideal at the withers is 22"; females reach 17-21 inches at the withers, ideal 19 inches. Males weigh 42-60 pounds, females 35-50 pounds. Proportions: body structure is rectangular, length from muzzle to buttocks significantly exceeds the height at the withers. Physical: very strong, strong, well developed, bone base, not refined, but not coarse, body structure, very muscular.
A brave, strong, brave, and hardy dog. An intelligent and loyal comrade. He tries in every possible way to please the owner. Very loyal to the object of service and protection. Able to work in any weather, both at sea and on land.