Is Fancy Feast Good For Cats? All You Need To Know
Everyone wants to take good care of their pet cats. The first and foremost thing is to provide them with healthy and nutritious food.
There are so many types of food available in the market for cats. They come in many different brands and varieties. 
Here we look at a popular brand of cat food named Fancy Feast. Let's find out if Fancy Feast is good for cats.
About Fancy Feast
Fancy Feast is a popular brand of gourmet cat food owned by Nestle Purina PetCare. However, a company named Carnation Company introduced Fancy Feast back in 1982.
Fancy Feat started with seven different flavors of cat food. It is renowned as the first gourmet cat food introduced to the market.
Nestle Purina PetCare is a subsidiary of the Nestle company and is based in St. Louis, Missouri. The company has many brands of pet food for dogs and cats. 
Where Is Fancy Feast Manufactured?
Most Nestle Purina PetCare products are manufactured in the US. However, some products, including Fancy Feast Purely, Broths, and Flaked Fish & Shrimp, are made in company-owned facilities in Thailand.
Types Of Cat Food Fancy Feast Offers
Fancy Feast offers a wide range of cat food under three categories: wet food, dry food, and food toppers and compliments. In addition, the brand has over 100 recipes that consist of broths, gravy, morsels, and dry cat food.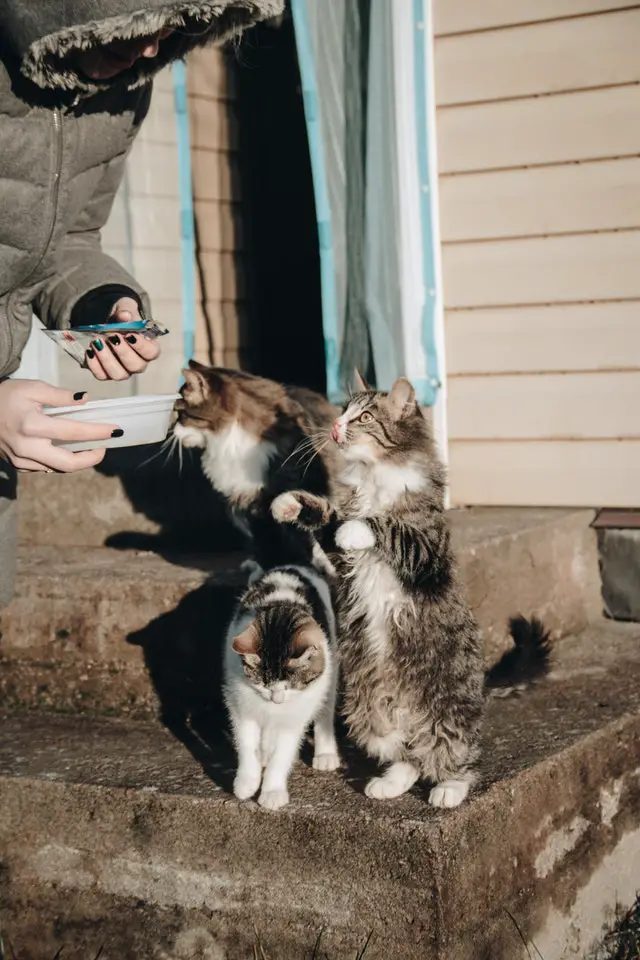 Wet Food
Three types of cat food fall under the wet food category.
Gourmet Line: It is the original Fancy Feast that includes morsels in gravy, patés, milk-infused meals, sliced food and chunky paté, etc.
Gourmet Naturals: It has food types similar to the Gourmet line, except that this Fancy Feast cat food line does not contain any artificial flavors or colors.
Purely Fancy Feast Natural: It consists of entrées made with seafood, chicken, or beef, excluding any by-products.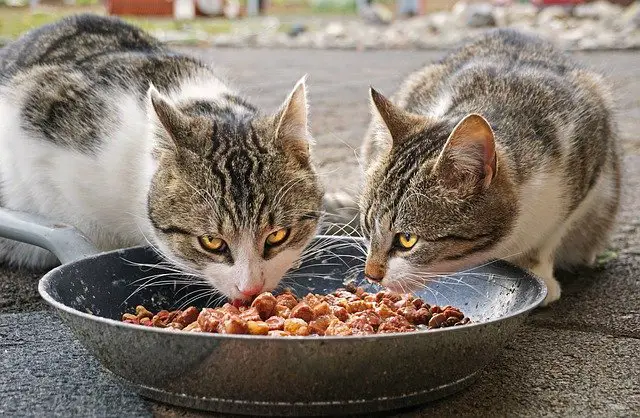 Dry Food
Two types of cat food fall under the dry food category.
Gourmet Dry Cat Food: It is the original dry cat food from Fancy Feast. It consists of various meat flavors, including chicken and turkey.
Gourmet Naturals Dry Cat Food: It has the same type of food as the Gourmet Dry Cat Food line, except that this cat food line does not contain any artificial flavors or colors.
Food Toppers And Compliments
Fancy Feast's food toppers and compliments consist of the following three categories.
Gourmet Broths: Food under this category consists of tender bites of seafood or chicken in broth.
Purely Fancy Feast Filets: It includes filets made of chicken or seafood.
Fancy Feast Appetizers: It consists of fine portions of seafood or chicken in broth.
Ingredients Breakdown In Fancy Feast 
Fancy Feast primarily consists of meat and meat by-products, usually used as first and second ingredients in the recipes. 
Fancy Feast's recipes also contain carbohydrates like wheat, rice, corn, and barley. It makes your cat feel fuller and adds fiber to its diet. However, your cat's diet should not have too many carbohydrates.
Other ingredients of Fancy Feast recipes include ground corn, soybean, the flavor of animal liver, and salt.
Almost all Fancy Feast's recipes, except for the Natural line, consist of artificial flavors and colorings. It includes unhealthy levels of artificial coloring, such as Yellow 5 and Red 40 that you should completely avoid feeding your cat.
It also consists of fish products that contain high levels of mercury that could be harmful to your cat.
Pros And Cons Of Fancy Feast
Below are the benefits and drawbacks of feeding your cat Fancy Feast.
Pros
It is affordable.

It tastes good for most cats.

It comes in a wide variety of recipes to select from.

It is rich in animal protein.
Cons
Most of the recipes contain artificial flavoring and coloring.

Seafood-flavored products could have significant levels of mercury.

It contains high levels of carbohydrates.

It could cause allergic reactions in some cats.
Fancy Feast: Price And Where To Buy
Fancy Feast costs less than most other brands of cat food. For example, feeding your cat with Fancy Feast's Gourmet wet food will cost you approximately $1.33 per day.
If you feed your cat Gourmet Naturals wet food, you will have to spend approximately $2.00 per day. However, feeding your cat dry food is less expensive as it will only cost you roughly $0.22 per day.
A can of Fancy Feast Gourmet Naturals wet cat food costs approximately $10. Broths and compliments can cost anywhere from $12 to $20 a can.
Fancy Feast cat food products are available for purchase in groceries, pet specialty retailers, and big box stores anywhere. You can also buy it online via Amazon, Walmart, PetSmart, Chewy, and Instacart. Before buying any pet food, try to read some reviews from trusted sites like IPet Guides, K9ofmine.
Fancy Feast: Customer Testimonials
People have noticed that Fancy Feast is not a healthy option for cats. They've reported a difference in the texture and taste of the recipes, making their cats dislike the products. 
Some people have also reported allergic reactions in their cats and identified symptoms like diarrhea, nausea, and vomiting after eating Fancy Feast recipes.
Below are comments on Fancy Feast cat food by people who have fed their cats different recipes. It shows how people are concerned about the safety of feeding their cats this cat food brand.
Is Fancy Feast Worth Buying? 
Fancy Feast may be an inexpensive option compared to most other cat food brands. However, some people do not prefer feeding their cats because it contains meat by-products.
The brand also adds fish with significant levels of mercury in their seafood flavors. High levels of mercury are not safe for your loving pet, and you need to completely avoid feeding them.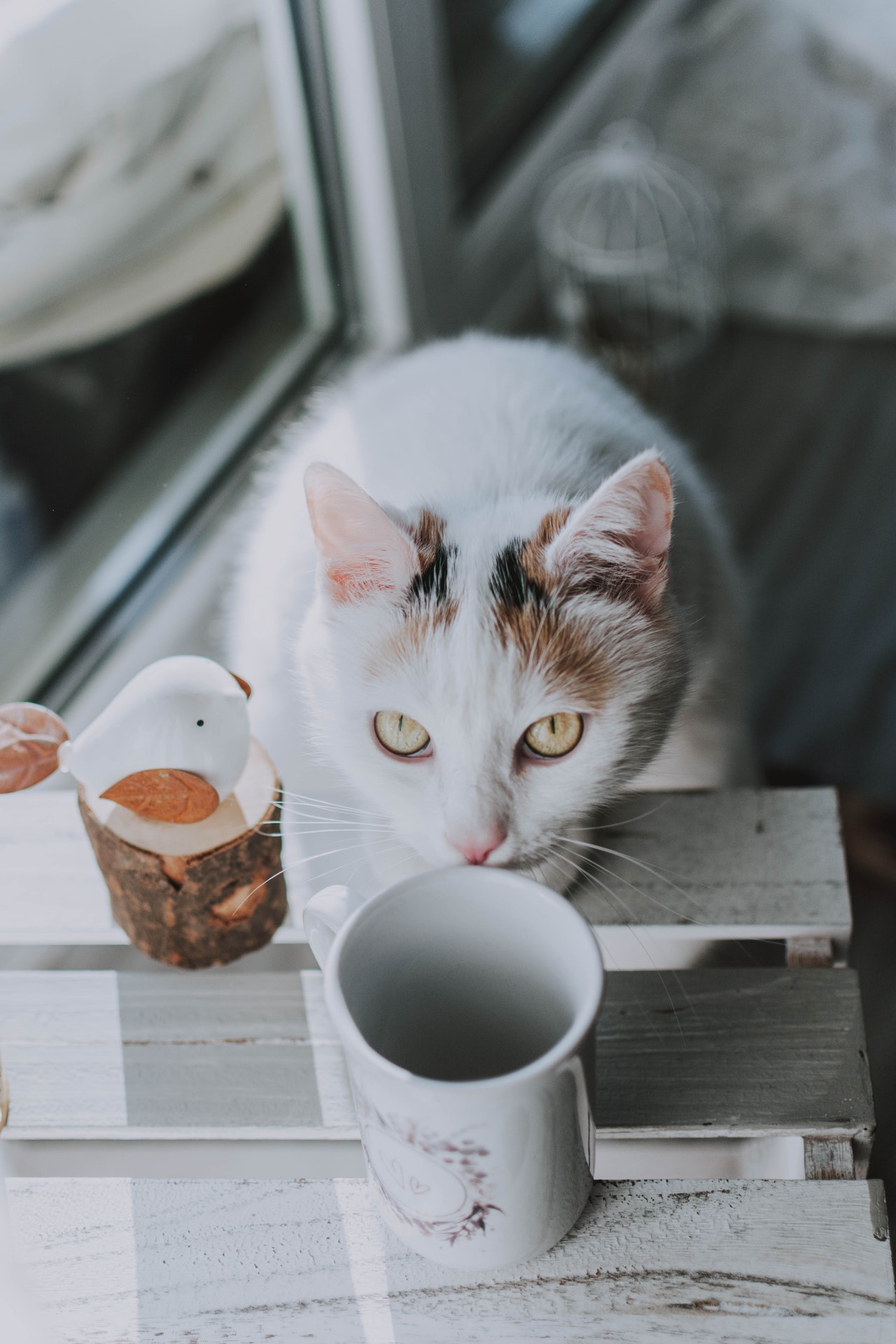 Most Fancy Feast recipes also consist of artificial additives that you don't want to be feeding your cat.
Overall, Fancy Feast is not worth buying due to its safety concerns.
Conclusion
Fancy Feast is not a safe and healthy food option for your cat. There are many other healthy and nutritious cat foods you can buy for reasonable prices.
Based on the above information and customer testimonials, keeping your cat away from eating Fancy Feast at any cost is safe.
FAQs
Will Feeding Fancy Feast To My Cat Make It Sick?
Yes, feeding your cat Fancy Feast could make it sick as your cat could show allergic reactions to various ingredients in the food. These ingredients include corn, grain, soy, meat proteins, and artificial additives that could cause your cat's digestive issues and skin reactions.
How Many Cans Of Fancy Feast Should I Feed My Cat In A Day?
A healthy cat requires about 2 – 4 three-ounce cans of Fancy Feast cat food per day. 
Which Types Of Cats Is Fancy Feast Suitable For?
Fancy Feast is a good choice of food for fussy cats because it's highly-palatable with a variety of flavors and textures to choose from.
Is Fancy Feast Good For A Diabetic Cat?
Cats suffer from diabetes when they have too many calories in their diet and too little physical activity. Therefore, a diabetic cat should avoid Fancy Feast recipes that contain high levels of carbohydrates and artificial flavors and colorings.