Do you know that according to the American Pet Products Association, around 70% of US households own a pet? If you've ever had a pet, you know how important it is to have a dedicated space for them. 
You need a place where they can play and relax in comfort. Otherwise, they will find one for themselves, and it will inevitably get messy. Therefore, you need to get on top of the problem and designate a spot where they can be themselves.  
Having said that, not all of us have the luxury of having an extra room or spare closet in our homes. So what's a pet parent supposed to do? In this article, we'll explore how you can create your custom pet nooks without having to make major renovations or spend too much money.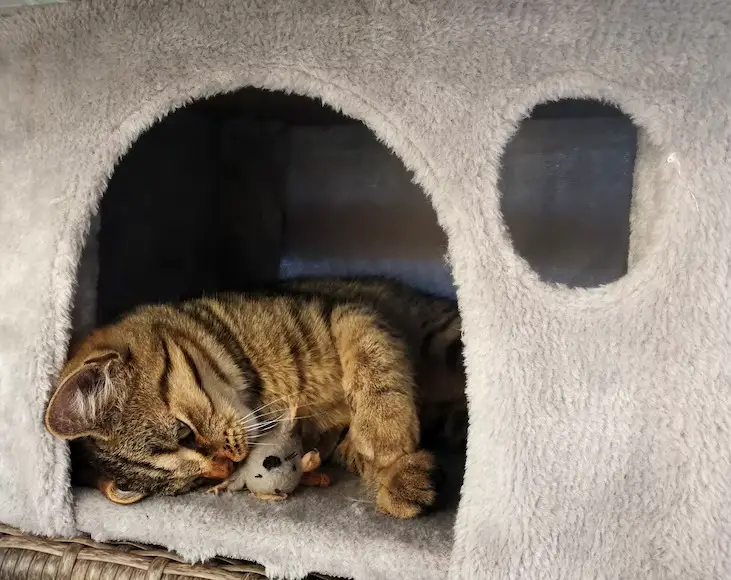 Pet Hammocks
When creating a pet nook, hammocks can be a great option. Pets love them because they're comfortable and easy to use. No matter what type of pet you have, there's probably a type of hammock that will work for them.
Here are some things to keep in mind when looking for the right hammock:
Keep the size in mind when choosing your pet's new bed. Ideally, he should be able to fit comfortably with room to spare on all sides, so he doesn't feel like he's being smothered when he sleeps. 

If you're buying one for an older dog who has trouble jumping into or out of high places, make sure it isn't too high off the ground so that getting up is easy on their joints or back legs.

Make sure there aren't any straps that could get caught while playing around. It would be terrible if your pet got tangled up. You should also look at how secure those ropes are attached. They shouldn't come loose while using or cleaning it later down the road, either.
Wall Model Dog Doors
Everyone knows dog doors are awesome. But they can sometimes ruin the design of a human door. And if not, then they end up being something plain and simple that doesn't spark anyone's interest. A cool new idea to try would be a wall model dog door. It is a solitary dog door built into a wall, just like a regular one. 
It might sound like a lot of work, but it is actually quite manageable. You can always seek professional help, but if you are a DIY kind of person, you can do it too. There are self-framing dog doors available to take some load off your back. There are some doors better suited for indoors and some for outdoors. Check to see if the door you like meets your and your pet's requirements before you make a choice.
Note that other than being used for dogs of different sizes, you can also use them for your cat. But make sure you get one that matches the cat theme so that you don't offend her feelings. 
Built-in crates
Getting a little fancy with your pet's crate can be a great way to show your appreciation for her. You can design your crate in such a way that it fits in seamlessly with its surroundings while also serving a practical purpose. Some crates are built into the floor to become part of the furniture in your room. They come in all different sizes and styles, but they all serve the same purpose, keeping your pet happy and comfortable. 
Animal Behaviorist Mary R. Burch, Ph.D., says that the rising popularity of stylish dog crates comes from the acceptance of dogs as family members. She also advises that the crate should be big enough for the dog to lie down, stand and turn around in. 
It also needs to have adequate airflow and should be easy to clean. Essentially, you need to keep in mind the functionality as well as the beauty when you select a crate for your pet.
Hidden litter boxes
If you have a cat or small dog, you probably have a litter box in your home. For those who don't like the idea of having a box sitting out in the open, there are some simple and stylish ways to hide this unsightly part of pet ownership.
You can simply paint or decorate the litter box that you already have. It costs next to nothing and ensures that the box doesn't turn into an eyesore. 
You can also buy an imaginative litter box. Some are built into cabinets or tables and serve as a piece of furniture. Another really good option would be a litter box that also serves as a pot for your plants. A simple google search will enlighten you about the different creative ventures people have undertaken with litter boxes. You can then buy the one that seems best. 
An enclosed pet area
Enclosed pet areas are all the rage right now. Find a space in the house that you don't use. It could be the bottom of a table or a desk. It could also be an empty part of a room. Then simply build an enclosed area for your pet and fill it with his favorite toys, a bowl, and a couple of cushions. Make sure you have easy access to the area when you need to clean it. Here are some additional things to keep in mind as well. 
Make sure the area is big enough for your pet to lie down comfortably and stretch out.

Make sure it's comfortable and safe, with no sharp edges or exposed wires that could injure your furry friend.

Make sure there is a door in case of emergencies, but also make sure there is a window so that your pet can watch what's going on outside his or her fortress of solitude.
Dr. Elizabeth Pulice of Perkiomen Animal Hospital points out that our pets can feed off of our stress, which can be detrimental to their health. This holiday season, when most of us will be under stress with cleaning, decorating, and family members coming over, an enclosed pet area can be the best way to keep your pet occupied and happy.
A catwalk above the kitchen cabinets
A catwalk above the kitchen cabinets is a great way to get your little fur ball off the ground and allow him to explore the space around them. This can be made of wood, metal, or plastic but should be installed above a kitchen island or peninsula. You want it low enough for your cat to jump on and off of it with ease but high enough that it won't interfere with any cooking you do below.
This space can be used to store pots and pans when not in use, as well as food items (like tuna fish) that might otherwise ruin your countertops. It may also help store cleaning supplies like toilet paper rolls or paper towels but make sure you get them down before the furry explorer sets off on his quest.
Before we sign off, you should know that according to a survey by Human Animal Bonding Research Institute (HABRI), 87% of family physicians agree that owning a pet has noticeably helped their patient's mental health. But you don't have to be a doctor to know pets make our lives better. The least we can do is return the favor by building a special place for them to enjoy.