The Lagotto Romagnolo belongs to intelligent dog breeds. She quickly masters commands, remembers them, feels good about her owner, and tries not to anger him (that is, realizes what is good and bad, what can and cannot be done).
Character
Dog breeders note the friendly nature of these dogs. They are very attached to family members, hate loneliness, require attention and affection. In addition, Lagotto Romagnolo is very active, industrious, and highly human-oriented. They do not show aggression, are not cowardly, emotionally stable, and sociable. The main character traits of Italian water dogs are their friendliness and playfulness. The animal is moderately active, so you need to walk a lot with them in order to give you the opportunity to throw out your energy.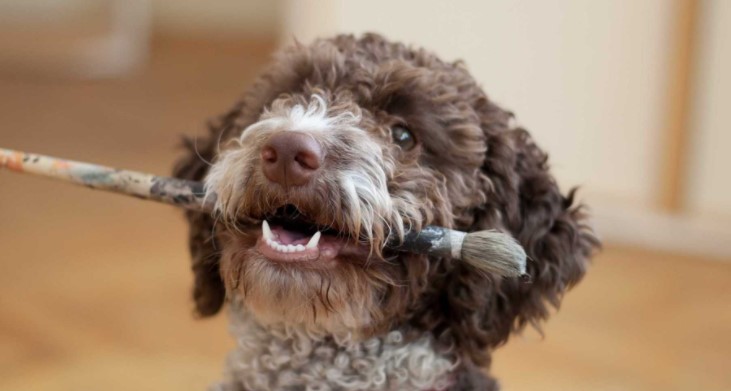 Lagotto Romagnolo puppies are very friendly, trusting, curious and retain these traits until old age
In relation to strangers (both animals and people) they behave cautiously, but not aggressively. It takes a little time for them to adapt and make friends with strangers. It is better not to use the Lagotto Romagnolo as watchdogs – they are good at noticing the intrusions of strangers into the house/apartment, but due to the lack of ferocity, they do not pose a threat to criminals.
They get along well with children. They take part in general games with pleasure. They easily get along in a company with other dogs, since they do not tend to take leadership positions, which means they will not enter into conflicts.
This breed is especially good at finding various things (especially those thrown into the water).
As for behavior at home, one can note the calmness of these dogs. They do not destroy the apartment and do not spoil things, being alone. At the same time, the return of the owner, even after a short absence, becomes a real holiday. Dogs are very curious, they are happy to explore the territory while walking, they love to play and move. At the same time, they are distrustful of strangers, but they quickly make contact.
If the dog lives in a family, it will single out the owner among the household members, but this will not significantly change the behavior. Lagotto Romagnolo treats all members of the family with tenderness and love and listens well to each of the family. They love children, they are able to spend a long time with them, they play with pleasure with kids and teenagers.
In addition, they react calmly to other pets, do not quarrel with cats, and are loyal to smaller pets.
The hunting instincts have dulled a little over time. At the same time, dogs remain excellent search engines, and they like to bring various items to the owner. The character and physiology do not allow dogs to become good guards, but they are not bad watchmen.
They react to suspicious moments with loud barking, which allows you to warn the owner of possible troubles. Each of the moments has its pros and cons, so the future owner must make a deliberate decision to purchase such a pet, depending on his needs and the availability of free time.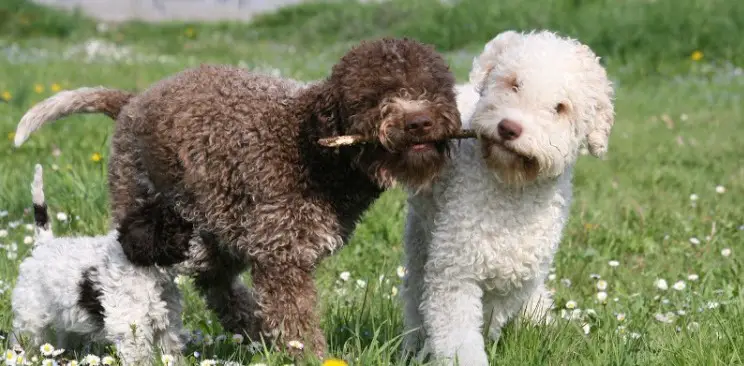 With an exceptional flair and scent, this breed of dog has proven itself well in truffle hunting. Lagotto is obedient, perceptive, easy to train, and very attached to his master. They make excellent companions and watchdogs.
Care and maintenance
An active dog will feel comfortable in the yard of the house, where space allows movement, exercise, exploration, and digging. A lively temperament requires daily exercise and stress.
In grooming, the dense coat of the dog requires the main attention. The advantage of the breed is in the absence of molting, dead hairs do not fall out. But for this reason, Lagotto Romagnolo requires regular haircuts to avoid rolling off the fur and the formation of tangles.
It is impossible to comb the coat, so as not to straighten the curls and disfigure the appearance of the dog. Twice a year (in early summer and early autumn), it is recommended to cut the hair baldly. The optimal hair length will be restored by the hunting season. The temperature balance of the animal and the health of the pet depend on the condition of the coat.
The dog's ears and eyes are cleaned as needed. Claws are cut as they grow. You need to bathe your pet once a month. The dog loves this procedure, as it has a passion for water.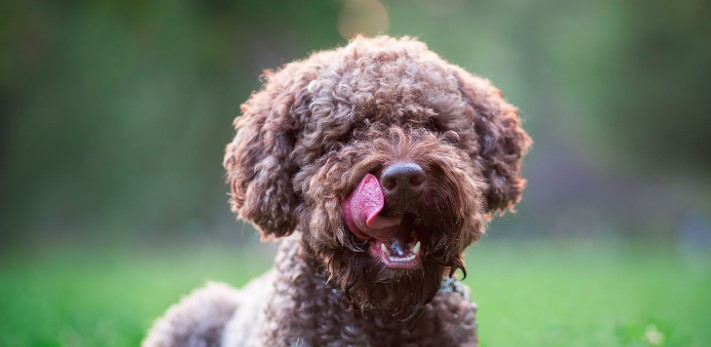 Dogs live on average 14-16 years. Naturally, excellent health must be maintained with a healthy and balanced diet. Homemade food is not enough in the diet; the special fortified feed is needed.
During intense physical activity, the volume of food should be increased by 20%. Vaccinations against various diseases and treatment against parasites are mandatory. The dosage should be appropriate for the weight of the dog.
Pros
Easy to train.
Sociable and friendly with everyone
Friendly attitude towards other animals
Get along with children
Very loyal
Good health, longevity
The hairline practically does not shed
Wool does not usually cause allergies
Perfect sense of smell
Great passion for swimming, bathing, and all kinds of fun on the water
Cons
Requires active walks with games
The coat needs to be trimmed.