Shih Tzus love to be in the spotlight, but at the same time they will never get bored, they adore all members of their family infinitely, are devoted to the owner, moderately energetic, playful, peaceful, get along well with other pets, love to play with children. Despite their diminutive size, Shih Tzu has a brave, lion heart and in a critical situation, they will be able to stand up for themselves. There is an opinion that Shih Tzu understands human speech, subtly captures and feels the mood of the owner. The popularity of the breed is explained by its compact size, balanced temperament, cute appearance, unpretentiousness.
We've compiled a list of male dog names for Shih Tzu Dogs for your inspiration.
[lwptoc]
Korean Shih Tzu Names – Male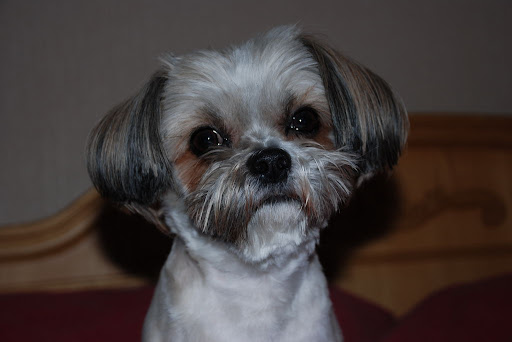 Su-won – defend, protect
Ho-Seok – strong, heaven
Seung – winning
Hwan – shining and bright
Geon – strength
Seo-Jin – omen
Jae-Hee – shining
Min-ho – brave and heroic
U-Yeong – glory, honor
Dak-Ho – deep lake
Kyu – standard
Jong-Seok – great, eminent
Yu-Jin – precious, valuable
Suk – rock, stone
Yeo – mildness
Seulgi – wisdom
Tae-Hui – big, great
Cute Names for Shih Tzu Puppies – Male
Rudy
Rascal
Odie
Frankie
Mickey
Charlie
Ernie
Buddy
Scrappy
Gizmo
Patches
Leo
Barkley
Jax
Louie
Alfie
Jack
Brody
Chewie
Hank
Chance
Blue
Cooper
Henry
Fergus
Wally
Chase
Murphy
Percy
Marley
Milo
Finn
Spud
Max
Roscoe
Scully
Best Names for Shih Tzu – Male
Chewy
Teddy
Charlie
Cooper
Gizmo
Buddy
Max
Oreo
Toby
Milo
Unique Shih Tzu (Male) Puppy Names
Chaucer
Benedict
Asher
Princeton
Blake
Winston
Kingsley
Prince
Darcy
Edwin
Kingston
Redmond
Vincent
Hamilton
Barnabus
Julius
Francois
Fairfax
Oliver
Alcott
Archibald
Edmond
King
Gatsby
Hudson
Duke
Alfred
Rockwell
Preston
Desmond
Ashton
Charleston
Augustus
Emerson
Shih Tzu Names (Male) With Meaning
Bailey (Trusted guardian of others' property)
Acapulco (A fashionable resort city in Southern Mexico)
Calliope (Beautiful-voiced and beautiful face)
Dizzy (Bewildered or confused, giddy)
Harold (A mighty general)
If you have not found your male Shih Tzu dog's name here, write in the comments, and we will be happy to include it in the list! And if you are looking for a great shampoo for your Shih Tzu, check out our recommendations here.