The art of miniature has been known for a long time. Making an owl creation unique, creating it to the limit of possibilities is the best way to demonstrate the level of skill. Anatoly Konenko is just such a Master. For more than thirty years, he has been perfecting the art of creating miniature works. He has developed technologies for writing on grains of rice and poppy seeds, even on human hair. And here's another masterpiece – a desktop mini-aquarium. Moreover, it is fully functional, filled with live fish.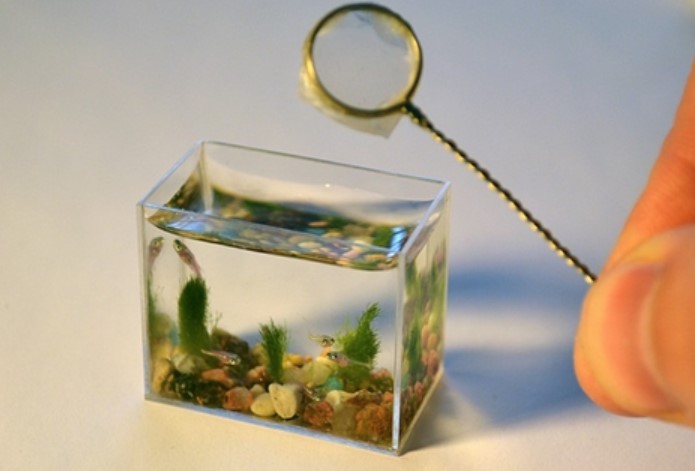 The material for this tiny aquarium is fiberglass; it has a layer of soil with live plants fixed in it. There is even a population – these are zebrafish fry in the amount of five pieces and no more than 4 millimeters in size.
The dimensions of this nanoaquamir made by Stanislav and Anatoly Konenko on 02/12/2011 are 30x24x14 mm.
To fill a micro aquarium, you need 2 teaspoons of water, that is, 10 ml.
This aquarium has become an absolute record holder because the previous smallest aquarium was 60 milliliters in volume.
It took Anatoly Konenko about 3 weeks to create this aquarium. The solution to another problem is striking – the installation of a micro-compressor created by the author.
In the Guinness Book of Records there is already an entry about the introduction in 2002 of a micro book of no more than 1 sq. Mm in size, also created by Anatoly Konenko.