Name: Sheltie
Other names: Miniature Collie, Shetland Collie (obsolete), Dwarf Scotch Shepherd (obsolete), Toonie dog (obsolete), Sheltie, Shetland Sheepdog
Country of origin: Scotland
Size Type: Medium Breed Dogs
Group: Herding dog breeds
Life span: 12 – 13 years
Temperament: Active, Playful, Gentle, Gentle, Intelligent, Alert, Lively, Loyal, Reserved, Teachable, Responsive.
Height: Males: 33–41 cm; Females: 33–41 cm
Weight: Males: 6.4–12.3 kg; Females: 6.4–12.3 kg
Color: Black & White, Black & Brown & Tan, Blue Merle Thrush, Tricolor, Sable, Sable & White, Merle Thrush.
Price of puppies: $600 and $6000 USD
Hypoallergenic: No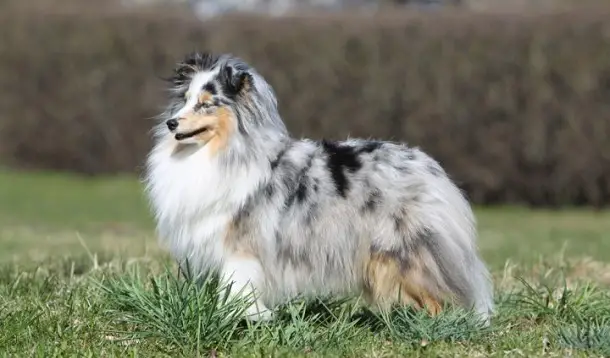 The name of the Scottish Shepherd Dog (Sheltie) indicates the name of its homeland, Scotland. In ancient times, she was considered a good herding dog: hardy, in good shape, courageous, vigilant, loyal, intelligent, reliable. The spectrum in which it could be used is wide. The history of the birth of the Sheltie goes back many years. It is one of the most popular breeds in Japan, spreading throughout the UK and North America. It is believed that this breed of Sheltie originated from the crossing of lines of Scottish Collies, dogs of the bowhead whalers Yakki and Spitz, accompanying fishermen from Scandinavia. According to another version, the Sheltie pedigree dates back to King Charles Spaniel.
A correctly folded sheltie is slightly longer (proportions measured from the front of the chest to the point of the buttocks) than in height. This length is most likely due to the shoulder angle, rather than the actual length of the back. The back is straight. Whether the dog is standing or moving, the line of the back is strong and straight, gracefully arched at the loin; the croup descends smoothly to the base of the tail. The loin is moderately short, muscular, and slightly arched, moderately tucked up. Ribs well sprung, starting from the vertebral column, then curving downward and inward, forming a deep sternum, dropping down to the elbows. Seen from the front, the chest is deep and moderately broad.
Sheltie is an infinitely loyal, loving, and empathetic dog. However, she is distrustful of strangers, but not to the point of showing fear or annoyance in the ring. Vices: shyness, shyness, or nervousness. Stubbornness or cruel disposition.