When a small fluffy puppy appears in the house, the whole life of the household begins to revolve around it. Everyone wants to pet a puppy, caress and, of course, come up with an original name for it. As such, there are no rules for choosing a name for a puppy, so you can take any you like. However, in order for the name of the pet to be really beautiful and suitable for it, there is no need to rush in this matter.
We've compiled a list of male and female dog names for red hair dogs for your inspiration.
Male Red Hair Dog Names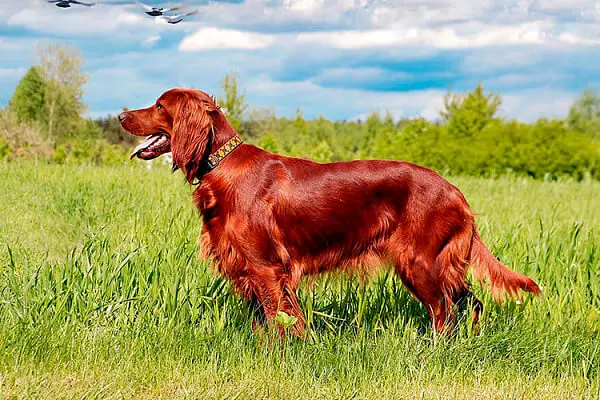 Big Red
Hunter
Conan
Maroon
Cider
Mahogany
Chester
Radish
Heinz
Dynamite
Harvest
Lava
Mars
Clifford
Jam
Laser
Prince Harry
Malbec
Ketchup
Elmo
Fuji
Copper
Currant
Pinot
Chesnut
Firecracker
Freckles
Beets
Lobster
Archie
Bordeaux
Loki
Apollo
Jasper
Fennec
Bandit
Flame
Pumpkin
Leif
Brighton
Finch
Brick
Auburn
Arizona
Comet
Fox
Burgundy
Merlot
Flynn
Phoenix
Carrot Top
Fuego
Pepperoni
Keegan
Crimson
Curry
Female Red Hair Dog Names
Pebbles
Eclipse
Hibiscus
Oakley
Ruby
Raspberry
Goldie
Foxy
Coral
Maraschino
Fuchsia
Jelly
Flannery
Honey
Penny
Rouge
Peaches
Paprika
Cherry
Gloss
Bloom
Hazel
Bridget
Brandy
Peppermint
Cranberry
Ladybug
Robin
Cayenne
Carmine
Ginger
Rosebud
Lolo
Blush
Salsa
Blaze
Poppy
Peony
Lucille Ball
Cabernet
Rhubarb
Dahlia
Berry
Ariel
Magenta
Autumn
Miss Frizzle
Garnet
Jessica Rabbit
Pepper
Annie
Cinnamon
Bandit
Molly
Henna
Ember
Apple
Rose/Rosie
If you have not found your red hair dog's name here, write in the comments, and we will be happy to include it in the list!