The Tibetan Mastiff is an ancient and rather rare breed of dog that has retained its original features due to the geographical isolation of the state in which it originated. The snow-covered peaks and slopes of the Himalayan mountains reliably defended Tibet from the south, and the impassable lifeless desert provided security from the north. That is why these beautiful, impressively sized guards of monks, and nomads were able to preserve the untouched memory of centuries in their blood. Strong, hardy, and powerful animals with incredibly thick hair staunchly resisted the harsh lifestyle and harsh high-mountainous climate of their native lands, occupying a significant place in the life and culture of the Tibetans. However, it should be noted that today the Tibetan mastiffs are slightly different from their distant ancestors and the image of a giant animal with a ferocious disposition has remained only the property of legends. By the way, the breed has long been accompanied by exciting myths and beautiful legends.
We've compiled a list of the best dog names for Tibetan Mastiff dogs for your inspiration.
[lwptoc]
Popular Tibetan Mastiff Names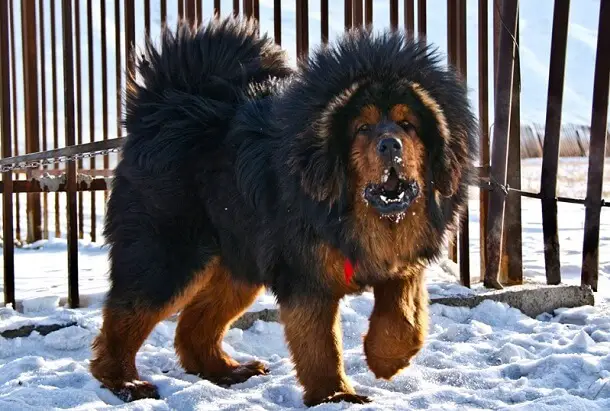 Harry
Rave
Bruno
Goliath
Tank
Hooch
Samson
Yukon
Titan
Tucker
Lui
Grail
Jett
Braci
Damien
Muscles
Bismarck
Goofy
Tex
Ranger
Jagger
Shark
Frankenstein
Trojan
Attila
Jaws
Atlas
Hercules
Burly
Pogo
Gizmo
Kong
Apollo
Jumbo
Brawler
Chaos
Satan
Jack
Gufy
Boomer
Don
Ninja
Sabre
Duke
Caspar
Julian
Chunky
Roman
Gladiator
Trapper
Luger
Jabba
Zeus
Thunder
Rugby
Tracker
Fluffy
Wookie
Remy
Chubby
Maxi
Lincoln
Rambo
Godzilla
Talon
Grizzly
Genghis
Rogue
Winston
Grendel
Jampo
Manley
Dragon
Max
Oscar
Raptor
Ragnor
Moose
Brawny
Melon
Stryker
Dylan
Buzo
Leo
Boone
Roomi
Ulysses
Tempest
Redneck
Female Tibetan Mastiff Dog Names
Lucy
Emma
Coco
Nala
Abbie
Zoey
Molly
Gracie
Bella
Lola
Male Tibetan Mastiff Dog Names
Dexter
Buddy
Max
Jack
Bear
Lucky
Rocky
Buster
Teddy
Bailey
If you have not found your Tibetan Mastiff dog's name here, write in the comments, and we will be happy to include it in the list!