Bernedoodle is best described as intelligent, and loyal.
They are bred to take the best of both parent breeds: Bernese Mountain Dog and Poodle. As a result, you will end up with a funny teddy bear.
We've compiled a list of Bernedoodle dog names for your inspiration.
Best Bernedoodle Names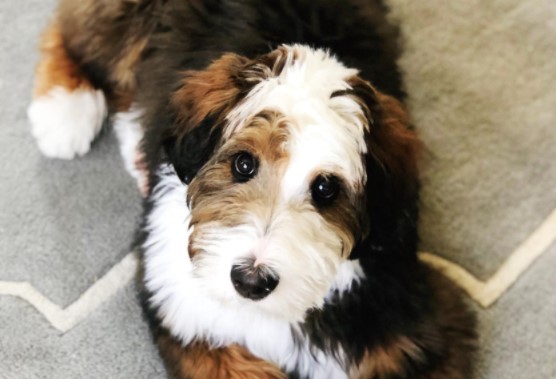 Max
Cooper
Joy
Beau
Patches
Wally
Luna
Spud
Dixie
Scout
Lucy
Willow
Buddy
Rudy
Charlie
Percy
Dakota
Oliver
Piper
Leo
Comet
Jack
Henry
Rascal
Alfie
Barkley
Milo
Brody
Paisley
Maggie
Murphy
Mia
Sully
Frankie
Chewie
Ernie
Odie
Mickey
Gertrude
Izzy
Macy
Chance
Coach
Louie
Marley
Finn
Chase
Hank
Zoey
Gidget
Madison
Male Bernedoodle Names
Boomer
Miles
Joker
Jackson
Buck
Gizmo
Bear
Falcon
Jet
Rascal
Buddy
Ajax
Coffee
Champ
Sterling
Female Bernedoodle Names
Pixie
Twinkle
Lily
Cutie
Athena
Sasha
Sugar
Ruby
Chunky
Honey
Dixie
Cherry
Nora
Boots
Ella
Mini Bernedoodle Names
Cooper
Duke
Willow
Millie
Moose
Lily / Lilly
Finn
Ruby
Luna
Beau / Bo
Riley / Rylee
Rocky
Charlie
Murphy
Zeke
Zeus
Bella
Rosie
Harley
Winston
Sadie
Daisy
Jackson
Molly
Bentley
Toby
Koda
Bear
Gus
Teddy
Zoey / Zoe
Kona
Heidi
Maggie
Lucy
Oliver
Sophie
Piper
Louie
Tucker
Max
Stella
Bailey
Bernie
If you have not found your Bernedoodle dog name here, write in the comments, and we will be happy to include them in the list!