For felines or wolves living in the wild, getting adequate moisture daily is less of a problem as much of their required moisture content will come from the prey they hunt and eat. For domestic fur babies, no longer required to hunt and capture their next meal, getting sufficient moisture means they need to drink quite a bit. And this may be easier said than done especially in the case of felines.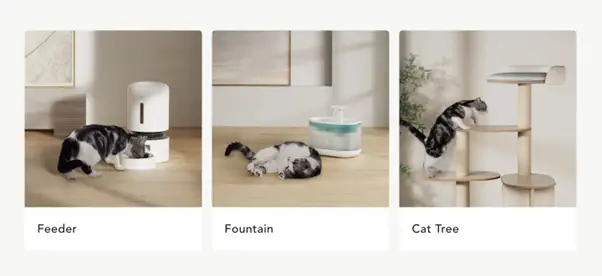 Why My Cat or Dog Might Benefit from a Drinking Fountain
Cats are notoriously finicky about everything including drinking. Some may meow just to get the tap turned on. Domesticated felines generally will not drink enough yet staying hydrated is vital for survival and overall health. Dogs, even small ones, will also walk up to a water bowl and sniff it before drinking. If Pooch sniffs and leaves, that in itself is a comment.
Good hydration aids in the prevention of kidney disease and urinary tract disease. Without sufficient water, minerals may crystallize and form stones with serious consequences for furry family members.
Buying distilled or purified water and changing pet water bowls several times a day may not be viable or budget-friendly. Water may be fresh when you put it down, but the water won't stay fresh for long, meaning multiple cleanings and water changes which are time-consuming and can add up in terms of expense. Let's face it, the water bowl may not be particularly appealing as the status quo.
Petlibro Water Fountains
Petlibro is an online pet product supplier and retailer specializing in automated pet appliances. Founded in 2019 in California, the folks at Petlibro believe that their products should improve the lives of pet parents and their pets by highlighting functional design, quality materials, and convenience.
Among their successful products are automatic feeders, memory foam pet beds, and pet water fountains. One, in particular, stands out for its minimalist design and silent operation although it is sized specifically for felines and small dogs.
Petlibro Capsule Automatic Pet Water Fountain
This technologically simple but effective self-contained water fountain system is impressive for several reasons.
First off, it is available in colors including blue, orange, purple, green, and stainless steel, so there are a lot of choices when it comes to décor.
A convenient aspect is a worry-free refill design incorporated into the fountain. The 2.1-liter (71-oz.) water container appears translucent making it easy to check when it's time for a refill. Water is continuously pumped through a filtering system, so if you're at work during the day, you won't have to worry.
Hygiene and Health
Petlibro has dedicated serious attention to health because this fountain is BPA-free and comes with a 5-level filtration system.  Most pet fountains may only have two or three levels of filtration. A 5-level filtering process will eliminate contaminants, heavy metals, debris, and even undesirable smells.
The filtration system's first level is the top tray which captures hair and larger particles. As the water proceeds through the system, it will pass through the main filter of nonwoven fabric willed with activated carbon on the tray's bottom. It also features ion-exchange resin material to capture toxins and heavy metals. The pump even features a foam filter to prevent particles from entering it, contributing to its durability and it comes with its own cleaning brush.
The unit only comes with one set of filters, so it's wise to order extra filters when purchasing the fountain.
Because the fountain has a very simple design, they are very few places where dirt can collect making it easier to keep clean, and it is dishwasher safe.
Undoubtedly, stainless steel and ceramic are less porous than the ABS plastic used in this fountain, but with regular proper cleaning, there should be no hygiene worries.
Operation and Noise
The unit comes with a USB cord for connection to a power source. Petlibro maintains that this fountain is super quiet with operational noise that is close to zilch at less than 28dB, and we concur. You can barely hear the sound of the gurgling water from the fountain, but we didn't hear the pump itself.
"Cat-appeal" vs. the Dog Sniff
Water remains sparkling clean for your pet, so if your Pooch sniffs, this fountain should pass the nose exam with flying colors. The choice of running water or a bubbling pool for drinking gives pets an option, especially for our choosier feline friends. Not only will they drink but they may find the fountain entertaining as well.
All Things Considered
This is a great small water fountain with a simple design that is priced affordably. It is relatively easy to set up and disassemble for cleanings. Operational noise is barely audible, and it will provide fresh clean water continuously thanks to its impressive filtration system. Its only limit may be that it is made of ABS plastic. Nonetheless, we liked the Petlibro fountain and we think that your pets may find it sufficiently entertaining to drink more often.