Pekingese are not just cute miniature dogs. This is the oldest breed of dog, which at one time enjoyed great privileges. "Imperial" dogs have undergone numerous changes in the process of evolution, including in terms of colors. The modern breed standard assumes almost any color of the animal's coat. Only a snow-white or liver color can be considered a defect.
Is Black and White Pekingese Coat Color Included in the Breed Standard?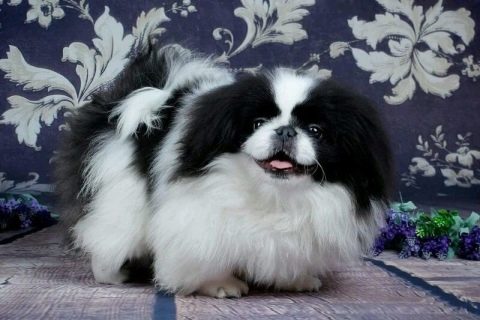 Black and White Pekingese are calm and level-headed dogs that make ideal companions in families of adults or single people. The predominance of black in color is observed most often. White appears more often only in the neck, paws, or on the belly of the pet.
Important! There are individuals with a large predominance of white. But this color scheme is rather an exception to the rule, it is very rare.
Black and white pets that do not have disqualification signs can participate in exhibitions and shows, as well as be used in further breeding. The breed standard provides for such a shade of wool and does not prohibit the construction of an exhibition career by such a Pekingese.
Black and White Pekingese
Pekingese have incredibly high mental abilities, they are calm and silent enough. They rarely show their voice, preferring to "talk" only with the owner and always-on business.
Black and white representatives of the breed have good learning ability, quickly learn commands, and obey the owner. If the pet becomes attached to the owner, he will gladly adjust to the usual regime of his owner.
They do not need too long and active walks, the Pekingese can be alone for a while, but they do not tolerate prolonged loneliness. The best pastime for them is to rest next to the owner. However, they can be very stubborn and wayward if they don't like something.
Also, a characteristic feature of this dog is incredible courage and courage. If necessary, they can rush to the enemy, many times superior to them in size and weight category. This happens especially often if the owner or his family members are in danger.
Pekingese are obedient and silent dogs that will become the ideal companion animal, happy to keep the owner company on a walk or travel. They calmly endure movements and do not like to be alone for a long time.