The Irish Terrier is a dog, like gloves, changing mood and style of behavior, but incredibly stable in its own love for the owner. Temperamental, starting from a half-turn, this saffron milk cap is a real genius of reincarnation, easily mastering the main canine professions. Whatever important mission he is assigned, the "Irishman" will definitely try to overfulfill the plan in order to earn the coveted praise. At the same time, the Irish Terrier is far from being a simpleton, and sometimes a completely unpredictable intriguer, capable of the most unexpected attacks. And yet, to curb and direct the animal's energy in the right direction is a quite feasible task, especially if you have already dealt with terriers and are aware of their breed "tricks".
#1

Ireland has given a start in life to four varieties of terriers, each of which has a unique exterior and is not at all like their English relatives.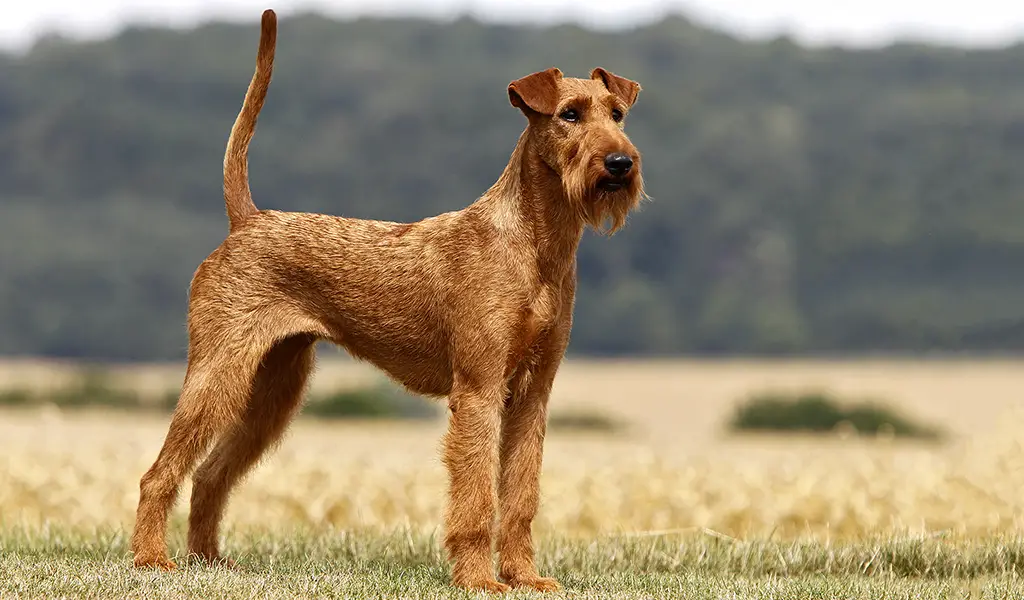 ... As for the Irish Terrier itself, there are almost no written sources that can shed light on the origins of the breed. Yes, theoretically, the "Irish" remain the most ancient pets that appeared in the "land of shamrocks and leprechauns" almost at the dawn of our era. However, vague extracts from old manuscripts, which are often too subjectively judgmental to be taken for documentary descriptions, serve as evidence of this statement.
#2

The breed began to really develop from the second half of the 19th century.
So, in 1875, its representatives appeared at an exhibition in Glasgow, and a year later - at a similar event in Brighton, England. In 1879, the animals got their own club headquartered in Dublin, which added points in the eyes of breeders. At the same time, it is important to understand that the dogs of those years were inferior to today's individuals in terms of external indicators. For example, the necks of the first "Irish" were more massive, the muzzles were voluminous, and the bodies were not so athletic. In addition, at first, the animals were docked not only with their tails but also with their ears.
#3

At the end of the 19th century, Irish Terriers received recognition from the English Kennel Club, which made them equal in rights with other breeds.
However, the real finest hour awaited the natives of the Emerald Isle on the fronts of the First World War, where they were used as messengers. In the confusion reigning in the fields, confusing even the calmest dogs, the Irish Terriers never lost their temper and were ideally suited for the role of mine seekers and paramedics.