Strawberries are not only true delicacies for us humans. They also contain important vitamins, minerals, and fiber. Many dogs also seem to be infatuated with sweet fruits. But are strawberries healthy for your four-legged friend at all?
First the good news: Yes, dogs are generally allowed to eat strawberries. You are on the fruit list for dogs to the edible fruits. However, there are a few points you should keep in mind when feeding.
Can Dogs Have Strawberries?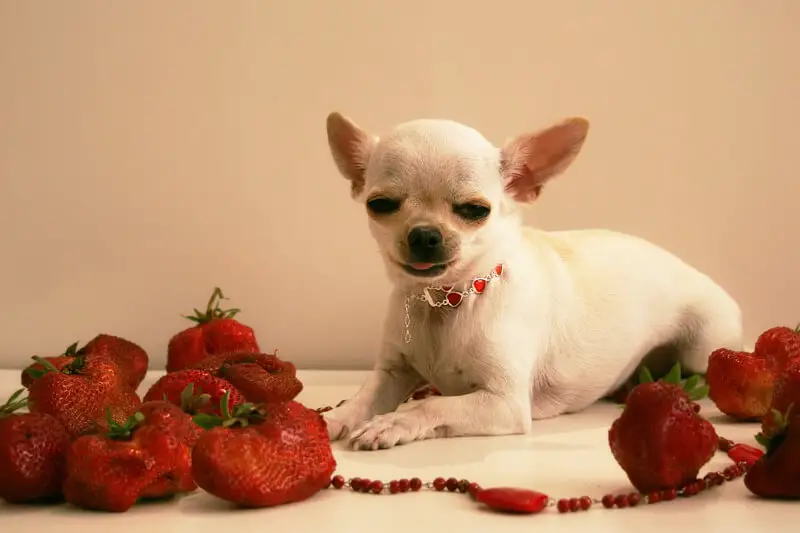 For dogs, all strawberries in all varieties are healthy (vitamin C) and non-toxic. Only feed your dog fresh, unsprayed strawberries. Use strawberries as healthy treats or mix them with normal dog food. Only give your dog small amounts of strawberries.
Are Strawberries Poisonous to Dogs?
The dog is actually a carnivore, which is why more and more dog owners are buying barefoot or grain-free dog food. But in the wild, dogs and wolves instinctively add fruit and vegetables to their diet. When they eat their prey, which are usually herbivores, they also take in berry fruits, among other things. None of the 20 known strawberry varieties are poisonous for domestic dogs, on the contrary.
Are Strawberries Healthy for Dogs?
The berries' high vitamin C content (more than in lemons) supports the immune system. Calcium is good for building bones, and magnesium and potassium are good for dog heart health.
Like apples, strawberries are a real vitamin bomb for your four-legged friend, power food that many dogs almost love. Take into account the number of strawberries consumed in the total number of calories. The fruit is an important source of energy for your dog, but make sure that he does not eat too much of it. Otherwise, it could affect bowel function and lead to diarrhea.
How Many Strawberries to Feed the Dog?
Although dogs generally tolerate strawberries well, they should only enjoy the red delicacies in moderation. About 1 gram per 1 kg of body weight can be fed. As mentioned, if your dog eats too many berries, this can cause severe diarrhea in the dog. One or two fruits as snacks in between are usually harmless even for small dogs. With larger animals, it can be more.
Mix Strawberries With Dog Food
If your dog has a sensitive stomach, first test how well he can tolerate strawberries in small amounts. Another option is to mix the strawberries with other fruit in the daily feed ration. The digestive tract can absorb and process them better.
Can the Dog Eat Fresh Strawberries?
When feeding strawberries, be sure to use only fresh and unsprayed fruit. Washed strawberries from the health food store or your own garden are best for consumption. By the way, it is not necessary to puree the berries. Simply feed the fruit to your dog whole.
Monthly Strawberries From the Garden
The so-called monthly strawberries sometimes grow in the garden. These are plants that produce very small strawberries. These are not particularly tasty, neither for humans nor for dogs. But they are not dangerous either. So your dog can eat monthly strawberries.
But be careful: if you allow your pet to help themselves to the plants in the garden, it could become a habit. This increases the risk of the dog accidentally ingesting poisonous berries or plant parts from other crops. Therefore you should not allow self-service in the garden or in the great outdoors.