Scarlett is not just a cat. This is a mom with a capital letter. Her courage, motherly love, and devotion, I think, will make everyone think. … On March 30, 1996, a fire started in an abandoned Brooklyn garage in New York. Firefighters arrived at the scene quickly enough, but during the extinguishing one of the firefighters – David Gianelli – noticed a stray cat, which repeatedly returned to the burning garage, pulling out its newborn kittens one by one. (Read more) Despite the burns of her eyes, severely burnt ears and muzzle, she carried all her kittens out of the burning room – and, since the cat could only take them out one at a time, she had to return to the burning garage, saturated with thick smoke, five times.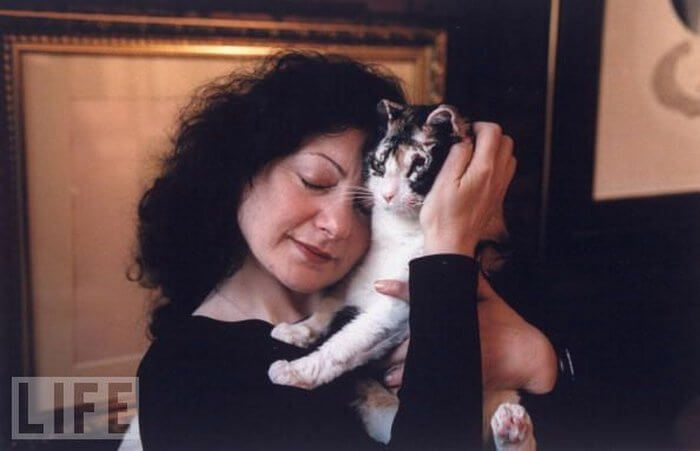 The cat had already burned paws, damaged ears, scorched muzzle, and blistering eyes from the fire, but only after she pulled her last, fifth kitten out of the fire, she poked her face into every one to make sure that everyone was saved and lost consciousness. One, the weakest of the five surviving kittens, died a month after the fire.
David Gianelli took the cat and kittens to a veterinary hospital at the North Shore Animal League, where the heroic mother was immediately given intensive care, placed in an oxygen chamber. It took three months for an almost complete rehabilitation of Scarlett (this name was given to the cat in the League for the Protection of Animals), but the animal needed preventive treatment for the rest of its life (for example, she had to apply a special eye cream three times a day).
The story of the heroic cat soon spread around the world, calls with offers of help came from Japan, the Netherlands, and South Africa, Americans sent postcards in her name for Mother's Day. The League for the Protection of Animals has received more than 7,000 applications from those wishing to adopt Scarlett and her kittens.
The four kittens were adopted in pairs by two families from Long Island, and Scarlett was adopted by Karen Wellen. In her letter to the League, Mrs. Karen said that she recently lost her beloved cat in a car accident, and now she would like to take into the house only such an animal that needs constant treatment, care, and special conditions.
Scarlett has lived happily in the house of loving Karen for over 10 years.