Looking for a name for a red female cat or a red male cat? Then this article is exactly what you need! Pettime invites you into the wonderful world of red tones and lists classic, trendy, or even mystical names for all red house tigers.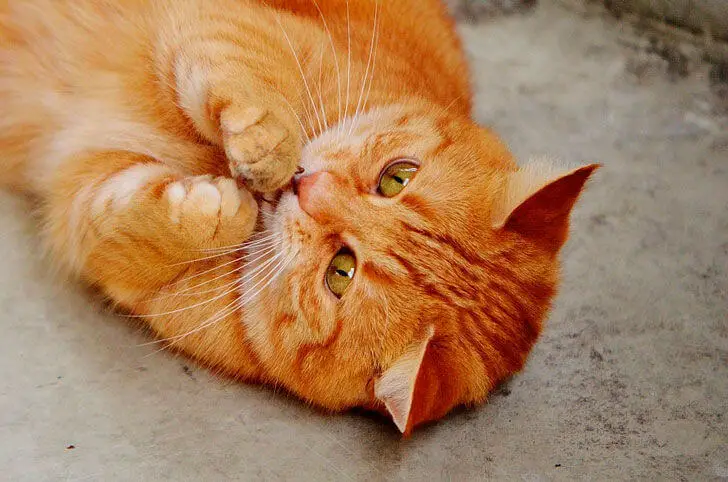 Names for red male cats or red female cats are anything but monotonous! In addition to classic names such as Scarlet, there are also extravagant names such as Diablo to choose from. Regardless of whether the house tiger has a tabby or red splash of color: The following 20 names underline exactly this wonderful feature!
Berry
Strawberry, Rasberry, or Cranberry: Many berries are beautifully red in color. Therefore, the English word for berry fits perfectly for all redheads on four paws.
Cherry
In the fruit category, there are a few names for red female cats or red male cats. Cherry sounds refreshingly fruity for cats with special coat color.
Chili
When you hear the word chili, you immediately see an elongated red pepper in your mind's eye. For red cats who have strong characters, the witty name is a great choice.
Cinnamon
Cinnamon – a beautiful reddish-brown – is worth considering in its English translation for red cats. Cinnamon sounds gentle, lovable and is therefore just right for cuddly tigers.
Crimson
Crimson comes from English and means "carmine red". Thus, the cat or the tomcat is given a name that stands for an intense red.
Diablo
Red as the devil: Diablo – the Spanish word for the devil – doesn't seem to be particularly flattering for a hangover at first glance. But with a touch of irony, the name fits perfectly for male redheads.
Ferrari
The name of the car manufacturer is immediately associated with red speedsters. Therefore, Ferrari is just right for red cats who like to turn up the gear.
Foxy
Foxy is a cute name for cats and hangovers. Foxes share the same coat color as red cats and are considered clever animals in the mythical world.
Garfield
The lazy and sarcastic tomcat Garfield enjoys cult status! In addition to his well-nourished tummy, it is his orange fur that is immediately associated with the comic figure.
Merah
From far Southeast Asia: This exotic name means "the red one" in Indonesian. In addition to its meaning, it also impresses with its sound and is therefore perfect for a cat lady.
Phoenix
For anyone looking for a mystical name, Phoenix is ​​on the shortlist. The name stands for strength and immortality and is suitable for both men and women.
Pirro
From ancient Greek: Pirro is derived from the word "pyr", which is translated as fire. There was also a king in history who bore this name in a modified form (Pyrrhos).
Poppy
Splashes of red as far as the eye can see: Poppy is the English translation for corn poppy. A beautiful plant that hits the fields in the summer can only be perfect for naming a red cat.
Roja
Roja is the feminine Spanish adjective for the color red. With the change "a" at the end, it also sounds perfectly like the name of a red cat.
Ruby
The name Ruby is an English girl name that is also a popular cat name. Ruby goes back to the Latin word "rubus".
Rufus
Exclusive: For a time the Latin name Rufus was only given to men with a redhead as a nickname. Since the translation is "the redhead", it fits red tomcats like a glove.
Salmon
Salmon not only ends up in the bowl often, but in its English translation, it is also a suitable name for red tomcats. Finally, the fish acquire a pink-orange color from their food.
Salsa
A classic salsa dress or the fiery side dish – both often come in a deep red. When a cat is christened salsa, the reference to its coat color is immediately established.
Scarlet
The English name of Latin origin means: "The scarlet fabric". It is an extremely old and historic term that is suitable not only for girls but also for red cats.
Tiger
Responsive, wild, and eager to hunt: Despite domestication, there is a little tiger in every velvet paw. If a male's fur is also tabby orange, a candidate could hardly be more suitable for the name tiger.